Michigan Presidential Ballot Recount Ended by Court Ruling
By
Federal judge reverses himself after earlier allowing recount

State court said Green Party's Jill Stein isn't 'aggrieved'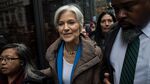 A recount of presidential election ballots in Michigan was effectively halted after a federal judge deferred to a state court finding that losing Green Party candidate Jill Stein wasn't an "aggrieved person."
U.S. District Judge Mark A. Goldsmith in Detroit ruled Monday that the recount could proceed, then reversed himself Wednesday after Republican backers of President-elect Donald Trump persuaded a state appeals panel that Stein wasn't qualified to initiate the process because she had no chance of winning the election.
Stein's lawsuit was based on claims of potential hacking of electronic voting machines and reports of foreign interference in the election, particularly by Russia.
Stein has "not presented evidence of tampering or mistake," Goldsmith wrote in Wednesday's ruling. Instead, she has made "speculative claims going to the vulnerability of the voting machinery -- but not actual injury," he said.
Stein's attorneys had argued the Michigan Court of Appeals misinterpreted state law when it accepted a claim by state Attorney General Bill Schuette, a Republican, that Stein couldn't petition for a recount because she wasn't an "aggrieved person."
Goldsmith wrote that he was obligated to follow Michigan law, which permits a recount to an "aggrieved" candidate who stands a reasonable chance of winning an election "but for mistake or fraud."
Mark Brewer, a lawyer for Stein, said no decision has been made whether to appeal the ruling.
"I'm still consulting with my client," he said in an e-mail.
The case is Stein v. Thomas, 16-cv-14233, U.S. District Court, Eastern District of Michigan (Detroit).
Before it's here, it's on the Bloomberg Terminal.
LEARN MORE