Good U.K. Data Looks Likely to Break Bad in 2017
By
Post-Brexit investment resilience masks weak trend: Investec

Behind headline numbers, labor market shows signs of faltering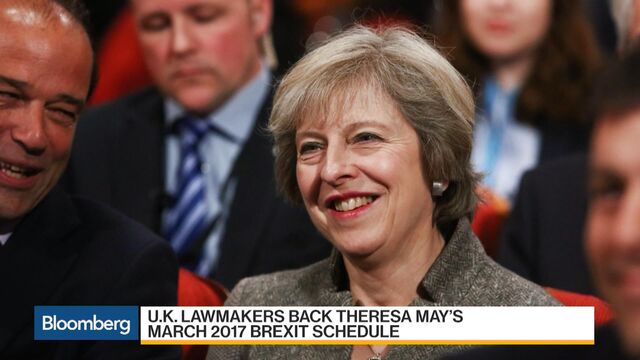 Economists and investors wondering how much longer they will have to wait before fallout from June's Brexit vote appears in the data may get their answer soon.
While much has been made of the resilience of the U.K. economy, with GDP data and PMI readings beating expectations while unemployment continues to fall, the tide may be turning on the run of better-than-expected prints. Wednesday's U.K. manufacturing data, which unexpectedly came in at the worst level since January, may be a harbinger of more disappointments to come.
There's a big difference between the uncertainty caused by a vote for Brexit, and the economic impact of actually leaving the European Union, which still seems some way off. As HSBC put it in a client note this week: "It's not so much that the U.K. is out of the woods already. More, in our view, that the U.K. has not yet entered the woods."

Though accommodative monetary policy and sterling depreciation have had the desired effect of supporting the economy in the near term when third quarter GDP beat expectations in October, that hasn't filled Roubini Global Economics with confidence. In a note this week, its economists predicted subdued investment spending and saw "all the risks to the downside."

Better than expected business investment growth came as something of a surprise to Investec Treasury when the latest data was released in November. However, they note investment data are extremely choppy and the underlying trend is weak.

The positive impact from the FX boost to export competitiveness is slowing, Credit Suisse said in a note about the November PMI reading, which came in below expectations. Higher costs may in time offset the FX effect, and export orders are already weaker compared to September's five-and-a-half year high.
Behind the headline numbers, data on the labor market show slowing job growth and an uptick in the number of unemployment claimants. The ONS note in their latest economic overview "some early signs that the long and steady growth in employment we've seen these last few years is starting finally to slow."

Retail sales were robust in October, boosted by the cooler weather which increased clothing sales. Tuesday's BRC KPMG retail sales monitor data show November non-food sales growth was driven by online growth and discounting, according to Berenberg. They see a risk heading into the end of the year that Black Friday not only delayed early November purchases, but brought forward December purchases, and expect challenging conditions across the sector heading into 2017.
Before it's here, it's on the Bloomberg Terminal.
LEARN MORE