Express Scripts Falls as Citron Calls It Drug Price Culprit
By and
Citron founder Andrew Left said he wants Trump's attention

Biggest intraday drop for Express Scripts in more than a year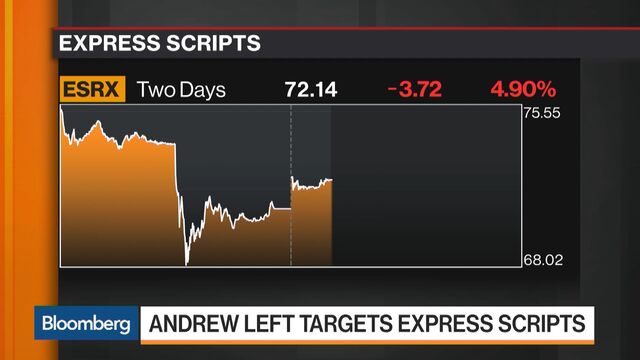 Express Scripts Holding Co. fell the most in a year after short seller Citron Research tweeted that the company is "the culprit behind pharmaceutical price gouging."
Express Scripts was down 7.4 percent to $70.22 at 2:50 p.m. in New York, and earlier dropped to $68 in its biggest intraday loss since August 2015. In a statement, the manager of prescription-drug benefits said it is a "market force that uniquely puts medicine within reach by driving down cost of care and improving health outcomes."
The tweets were a message to President-elect Donald Trump that Express Scripts plays an important role in high drug prices, Citron founder Andrew Left said. He said he has a short position in Express Scripts. Short sellers stand to profit when a stock's value falls. In an interview with Time magazine posted Wednesday, Trump vowed that he'll "bring down drug prices."
"If you really want to go after drug prices you want to start with low-hanging fruit," Left said in a telephone interview. Express Scripts is "low-hanging fruit," he said.
'Philidor of Pharma'
In tweets, Left said Express Scripts is the "Philidor of the pharma industry," a reference to the Philidor Rx Services LLC, the defunct mail-order pharmacy that critics said Valeant Pharmaceuticals International Inc. used to push its high-priced drugs.
Express Scripts is "not at all like Philidor in any way," Brian Henry, a spokesman for Express Scripts, said in an e-mail.
Left may be targeting Express Scripts because one of its biggest customers is the U.S. Defense Department. Express Scripts' Henry said research demonstrates that the company saves money for the department, pointing to a July 2013 inspector general's report that found the mail-order pharmacy program was cost-efficient and had adequate dispensing controls in place.
Express Scripts' biggest customer, the insurer Anthem Inc., has said it's being overcharged billions of dollars a year by the pharmacy benefits manager, and in a lawsuit filed in March asked for the option to end their relationship. In a counter-suit filed in April, Express Scripts said it doesn't owe Anthem any price reductions under their current contract, which runs through 2019, and accused the insurer of failing to negotiate in good faith.


Before it's here, it's on the Bloomberg Terminal.
LEARN MORE