ECB-Watchers Look to Draghi for Clues About What Comes Next
By and
ECB announces policy decision at 1:45 p.m. Frankfurt time

Investors expect extension but want hints on when QE will end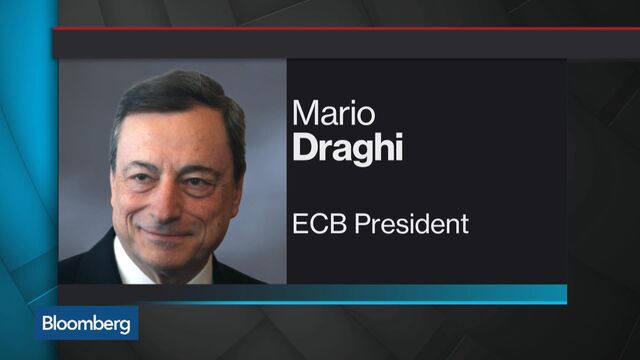 Mario Draghi's final policy announcement of the year might leave observers to draw the biggest insight for themselves.
More important than the widely anticipated extension of asset purchases at the current monthly pace of 80 billion euros ($85 billion) for six months may be any signal by the European Central Bank president on the path of stimulus thereafter. Economists surveyed by Bloomberg say the newest push could be the last before bond buying starts to be tapered.
Click here to set a reminder to watch Draghi's news conference live
ECB officials including Draghi have stressed that monetary policy will eventually return to a more conventional stance, though how fast depends on the contribution of governments to strengthening the euro-area recovery. But with upcoming elections in some of the region's biggest countries limiting the scope for structural reforms and a surge of populism undercutting support for European integration, the central bank may find itself tethered to non-standard measures for a while longer.

"If I were Mr. Draghi, I would try to be vaguely non-committal on details," said Kit Juckes, global strategist at Societe Generale SA in London. "It's a balancing trick at this particular point and in the next few months to prepare the market for tapering without adding to the degree of uncertainty in European currency and bond markets."
To follow our TOPLive blog on the ECB's announcement and press conference, click here
The central bank will announce its policy decision at 1:45 p.m. Frankfurt time on Thursday, and Draghi will speak to reporters 45 minutes later. The ECB will also publish updated growth and inflation forecasts, including a first outlook for 2019.
The euro gained before the decision, and was 0.4 percent higher at $1.0799 at 10:41 a.m. Frankfurt time.

Draghi said in October that inflation should meet the ECB's goal of below but close to 2 percent by early 2019 at the latest, noting that this outlook was reliant on maintaining the "extraordinary support of our monetary policy." 
He hinted in an interview published last week that stimulus may be stretched longer but thinner. But whatever his choice, economists and investors are likely to focus on what will happen after that.
The region's economy has so far proved resilient to political uncertainty on both sides of the Atlantic, and unemployment has been falling so rapidly that in October it was already below the level the ECB had forecast for 2017.

Still, Draghi has repeatedly warned that downside risks in the euro area remain. Italy's failed constitutional referendum and its banking problems are the latest in a series of events breeding uncertainty, after Donald Trump won the U.S. election and the U.K. decided to exit the European Union. 

Analysts will listen closely for changes to the ECB's self-imposed quantitative-easing rules, which would be aimed at increasing the universe of eligible assets but which might also provide guidance on how much debt the central bank expects to buy.
"There's going to be many shades to this meeting," Peter Chatwell, head of rates strategy at Mizuho International Plc in London, said in a Bloomberg Television interview. "It's going to be one of the most difficult to interpret that we had for a long time."
— With assistance by Stefania Spezzati, Chiara Albanese, and Esteban Duarte
Before it's here, it's on the Bloomberg Terminal.
LEARN MORE