Draghi's Anti-Taper Keeps ECB Stimulus Live for 2017's Risks
by
ECB president sets new QE end-date with option to extend again

Balance sheet to expand to almost 40 percent of euro-area GDP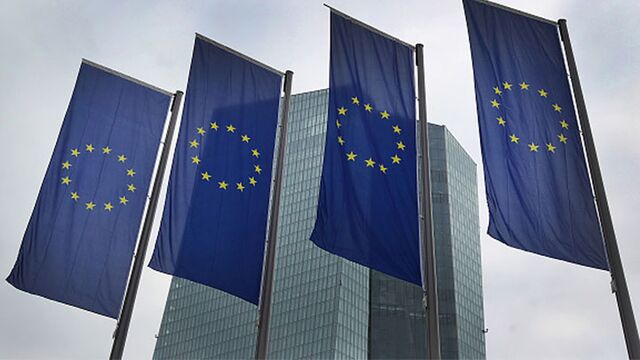 Mario Draghi's message to investors on the future of his quantitative-easing program on Thursday could have been boiled down to three words: less is more.
Strenuously denying a "taper" is in place -- or was even discussed by policy makers -- the European Central Bank president cut the institution's monthly bond buying to 60 billion euros ($64 billion) from 80 billion euros. He also added three more months of purchasing than economists expected, and followed up by saying quantitative easing is essentially open-ended and inflation will remain too feeble well past the supposed new end-date.
That mixed message sent investors scattering in different directions, with some focused on the near-term curtailment of QE and others hailing the additional injection of liquidity. But ultimately, the 1.14 trillion-euro program that started in 2015 has now morphed into a buying spree of at least 2.28 trillion euros that could help shield investors through the political minefield of European elections next year.
"Draghi has rightfully put the focus on expanding the balance-sheet size," said Marchel Alexandrovich, senior European economist at Jefferies International Ltd. in London. "QE is still indefinite, with no tapering in sight."

Moreover, even when monthly bond buying ceases, the impact on the balance sheet will stick around for a long time. For evidence, look at the U.S. Federal Reserve. Three years after it announced the start of the original "taper" for its own QE plan, the Fed's total assets have barely budged from its record of $4.5 trillion, or almost a quarter of gross domestic product.
Sustained Presence
The ECB's latest announcement will, all else being equal, boost its balance sheet to 4.1 trillion euros, or almost 40 percent of euro-area output.
"The extension of our purchases over a longer horizon allows for a more sustained market presence and, therefore, a more lasting transmission of our stimulus measures," Draghi said at a press conference in Frankfurt. The aim is to "preserve the very substantial amount of monetary support that is necessary in order to secure a return of inflation rates toward levels that are below, but close to, 2 percent without undue delay."
He backed up his message by noting that fresh economic projections showing consumer-price growth will average 1.7 percent in 2019 are "not really" in line with that goal.
Never mind that. Government bonds sold off as traders focused on the cut to the monthly flow as a sign that the ECB bowed to the wishes of its more conservative Governing Council members. That's even though Draghi also unveiled technical changes allowing the ECB to buy shorter-dated debt as well as bonds yielding less than the deposit rate -- a previous constraint.
As if to underline the view that the ECB really might be dialing down its efforts, Executive Board member Benoit Coeure said on Friday that the policy decisions also contained "a form of warning."
"This won't last forever, it can't last forever," Coeure said in an interview on Europe 1 radio. "Sources of growth that aren't dependent on monetary policy need to be found. Long-term rates will rise. Economic players need to be ready, notably governments that have benefited a lot from falling rates."
Some analysts therefore emphasized the cut in monthly purchases as the beginning of the end of QE.
Taper Walk
"If it waddles like a taper and quacks like a taper, then it probably is a taper," said Richard Barwell, an economist at BNP Paribas Investment Partners in London. "The technical tweaks aren't the major changes in design they would need to implement if they intended to carry on buying for the foreseeable future. The Bundesbank didn't need to ask for a taper because it got one in all but name."
Watch Next: Draghi Positions ECB to Take on 2017 Risks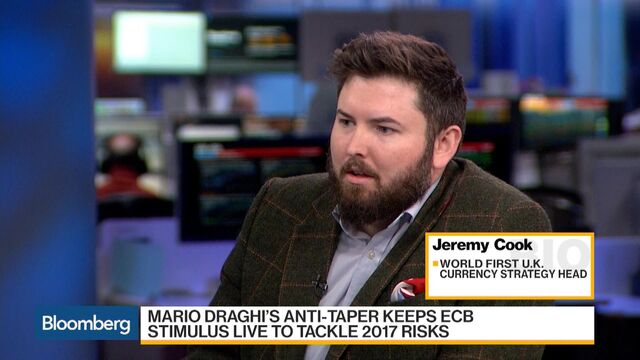 If there's an argument for easing the pressure on the monetary accelerator even slightly, it's that recent economic data in the euro area has been pretty encouraging. Purchasing-manager indexes and confidence surveys rose in November, pointing to faster growth in the fourth quarter. That performance is helping dispel concerns that political risks such as the U.K.'s exit from the European Union or any onset of protectionism following the election of Donald Trump as U.S. president will damp output.
In managing to respond to the brightening outlook, while keeping stimulus in place for longer should further risks materialize, Draghi has pulled off a "really, really clever" feat, according to Tim Graf, head of macro strategy at State Street Bank & Trust Co. in London.
"The main goal seems to have been for us not to have to be talking about ECB tapering during some of the most important elections in Europe," he said. "They bought themselves nine more months of keeping their options open."
Before it's here, it's on the Bloomberg Terminal.
LEARN MORE