Brexit, Trump Tide of Populism Swamps South Korea President Park
By
Friday impeachment vote seen as 'verdict on establishment'

Poltical 'outsiders' seize momentum as protesters lead push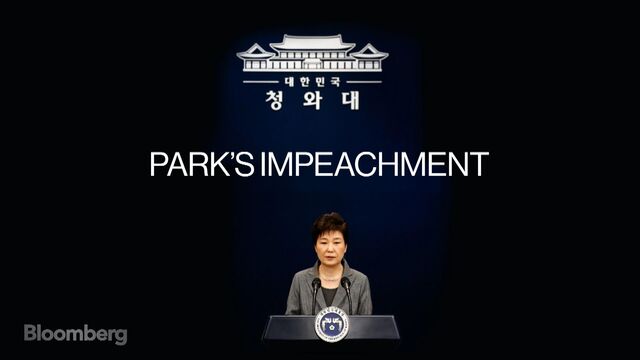 The wave of populism that fueled Brexit, the rise of Donald Trump and the fall of Italian leader Matteo Renzi has reached South Korea, where street protesters see Friday's parliamentary vote to impeach President Park Geun-hye as a step toward toppling the establishment she symbolizes.
Hundreds of thousands of students and workers, young and old, have filled thoroughfares in Seoul and South Korea's major cities with candlelit protests since an influence-peddling scandal involving the president erupted in October. Slogans and banners demand not only her ouster, but also the breakup of the ruling party and the family-run chaebol conglomerates they call "accomplices."

With revelations linking the executive office to the chaebol, South Korean voters have decried the ties that once underpinned the nation's rapid growth. Park, whose single, five-year term would end in early 2018, and the wealthy families that dominate the economy have come under fire from opposition lawmakers as income inequality widens, youth unemployment soars and the nation's once-mighty steel mills and shipyards languish.
"It's our fury against the establishment that burns in those candles," said Lee Hyung-jin, a labor activist leading rallies in the southeastern city of Ulsan, home to a cluster of embattled shipbuilders. "If the opposition fails to impeach Park, it will prove they, too, are part of the establishment that betrayed us and served Park. Protests may turn violent."
Political 'Outsiders'
Sustained public anger among the 50-million population could mean that "outsiders" rise in the next election. If Park is impeached, and parliament's decision is legalized by the constitutional court, then an election would be held within eight months at most from now. The president said last month she would let parliament decide her fate and is prepared to step down.
The 121 lawmakers of the main opposition Democratic Party of Korea pledged Thursday to resign if they fail to pass the bill -- heeding a call from Moon Jae-in, the front-runner in presidential polls -- according to party chief Choo Mi-ae. The party earlier withdrew a proposal to form a coalition government and hold talks with Park after mass rallies criticized it for being too slow to impeach her. 

The impeachment bill requires support from two-thirds of the 300-member parliament. A faction within the ruling party has pledged to support the motion, providing just enough votes to pass it. The passage would suspend Park from power and give interim leadership to Prime Minister Hwang Kyo-ahn until the constitutional court rules within 180 days.
Some 78 percent supported Park's impeachment, according to a Realmeter survey of 1,047 adults released Thursday. Her approval rating was at 5 percent, Gallup Korea said Friday, just hours before the vote.
Burning Torches
On Saturday, for the first time since Park apologized in October for involving her friend, Choi Soon-sil, in state affairs, dozens of protesters in Seoul brought flaming torches instead of candles and carried cutouts of Park wearing blue prisoner's garb, her hands tied with ropes.

Read about how the Sewol ferry sinking and Viagra allegations hurt Park
The protests are the largest in the country since 1987, when South Koreans mobilized against a military junta to achieve direct presidential elections. Last week the rallies drew 320,000 people in Seoul alone, according to police. Organizers put the number at 1.7 million.
Demonstrators have also gathered near the National Assembly, throwing eggs at the ruling Saenuri party's building and ripping apart a giant flag bearing the party's name. On Tuesday, some activists scuffled with bodyguards of chaebol executives as the leaders of business groups including Samsung and Hyundai walked into parliament to face questioning over whether the conglomerates were involved in the corruption scandal.

Chaebol Chiefs
The chaebol leaders, including Jay Y. Lee of Samsung Electronics Co., denied at Tuesday's parliamentary hearing that they sought political favors in exchange of the tens of millions of dollars they donated to foundations controlled by Park's friend Choi.
"Populism feeds into the Korean tradition of political street protests when politicians do stupid things," said Robert Kelly, a political science professor at South Korea's Pusan National University. "The chaebol elite and political elite in Korea are much too close. The Park administration has made it very obvious that corruption in Korea is probably the single biggest political issue."
One outsider who has benefited from the turmoil is Lee Jae-myung, a straight-talking 52-year-old city mayor who was one of the first people to call for impeachment. While Park said she regretted hearing young people label their nation "hell" for economic hardships, Lee has roused crowds at rallies, calling for a "revolutionary change" to overhaul the economy.  
"What is the root of all this turmoil? It's chaebol," Lee told a crowd at last week's rally, after protesters chanted his name until he came out to address them. "Chaebol can use their money, which is the 'One Ring' in this capitalist society, to corrupt everyone," he said, alluding to a symbol of power in the popular "Lord of the Rings" movie series.

A Bloomberg News survey of analysts projects South Korea's economy will expand 2.7 percent this year, marking the first five-year run of sub-3.5 percent growth since the 1950-53 Korean War.
Election Candidates
Lee, the only one so far to declare his candidacy for the election, has risen to third place in polls and threatens to overtake United Nations Secretary-General Ban Ki-moon in second place, who will return home after his term ends this year.
Protests will continue whether the impeachment bill passes or not, organizers said. Even if parliament agrees to sanction Park, demonstrators are unlikely to let up until the court agrees to her impeachment.
Other political neophytes include Park Won-soon, a former civic activist who was elected Seoul mayor in 2011, and Ahn Cheol-soo, a software tycoon-turned-politician whose party was just three months old when it won 38 seats in April elections. Both Ahn and Park have criticized the chaebols' dominance in the economy.
Those business groups, which make everything from chewing gum to supertankers, smartphones and SUVs, are the bedrock of Asia's fourth-largest economy -- monster business empires that were fostered in the 1960s and 1970s by Park's father, the dictator Park Chung-hee. 
The political-business ties he forged to build the nation's shattered economy made the nation a success story in Asia, spawning global brands in electronics, auto-making and shipping. But as competition from China intensified, the effectiveness of the model and its benefit to ordinary Koreans has come increasingly into question. 
Read about the mysterious letter that set in motion the scandal rocking South Korea
Democratic Party heavyweight Moon, who would face Lee in a preliminary if he also announced his candidacy, began a nationwide campaign to oust Park and warned the constitutional court that it would be directly challenging the public if it ruled against impeaching the president.
Parliament's impeachment vote on Friday is a "verdict" on the nation's entrenched elite, said Rhee Cheol-hee, a Democratic Party lawmaker. The protests are "an act of popular democracy and this is their fight against an establishment that has neglected them."
— With assistance by Jiyeun Lee
Before it's here, it's on the Bloomberg Terminal.
LEARN MORE