Bill English Poised to Be New Zealand's Next Leader
By and
Collins, Coleman say English has enough caucus support to win

Leadership race triggered by John Key's shock resignation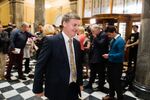 Bill English is poised to become New Zealand's next prime minister after both of his rivals for the leadership pulled out of the race to replace John Key.
Health Minister Jonathan Coleman and Police Minister Judith Collins withdrew from the contest Thursday, saying it was clear English had enough support to win. "I want to congratulate the next prime minister of New Zealand, Bill English," Coleman said.
English, the 54-year-old finance minister and Key's preferred successor, said he won't become premier until the ruling National Party caucus formally endorses him at a meeting on Dec. 12. Today's developments nevertheless bring a quick end to a leadership race sparked by Key's shock resignation Monday, less than a year out from a general election.
"I won't be talking about being a prime minister until I am one," English told reporters. "This has all happened pretty fast, it's really only three days since John Key stood down, so I haven't really had time to reflect on it."
National's 59 parliamentarians must still elect a new deputy leader when they meet next week, with Transport Minister Simon Bridges and State Services Minister Paula Bennett both seeking the role. English declined to express a preference, but said Economic Development Minister Steven Joyce will take his finance portfolio.
Father of Six
English, a father of six and a former farmer, welcomed the fact that Collins and Coleman had initially put themselves forward for the leadership, saying the resulting debate would help the government to "reset" after Key's departure.
While he inherits a party riding high in the polls, much of National's popularity during its eight years in office so far is also attributable to Key, whose common touch and pragmatic approach endeared him to the political center ground.
English refused to be drawn on the timing of an election, due late next year, amid speculation National may prefer an earlier poll.
However, it is clear he will have a strong economic platform to take into the 2017 campaign. Earlier Thursday, the government unveiled a half-year budget update that forecast rising surpluses and a stronger economy than previously expected. Presenting the update, English said tax cuts remain an option.
A less charismatic politician than Key, English is nevertheless credited with returning the government's books to surplus and introducing a new targeted approach to social spending.
The government's fiscal and economic policy direction is unlikely to change with English as prime minister and Joyce in the finance role, said Stephen Toplis, head of research at Bank of New Zealand in Wellington.
"John Key was the front man and the deal maker, but Bill English was the anchor, and the anchor is still there," he said. "It's just steady as you go."
Before it's here, it's on the Bloomberg Terminal.
LEARN MORE