Bar Exchange Shows How EU's Brexit Negotiator Gets Deals Done
By
EU's Michel Barnier said to be a dealmaker, not an ideologue

Barnier says he needs to get an agreement by October 2018
For a clue about the negotiating style of the European Union's Brexit chief, Michel Barnier, you could go back to a bar in Brussels in 1999.
About to take up his first European commissioner job, Barnier was looking for experts to form part of his team, and had been advised to speak to Olivier Guersent, a fellow Frenchman who was working on EU merger policy.

"He took me out for a beer and we had a one-hour chat after which he said, 'Fine, you're joining my cabinet,' " Guersent, now the European Commission's financial-services director general, said in an interview on Tuesday. "I requested the night to think it over but he said 'No, if I give you time you may change your mind. The offer is in front of you, it's yes or it's no.' So I said yes."
Seventeen years on, Barnier, from France's picturesque Alpine region of Savoy, is leading the EU's team negotiating with the U.K. over the terms of its withdrawal from the 28-nation bloc and this week set out a tight timeframe for that, too. Between now and late 2018, he will see if his barroom leverage powers are still intact as he tries to strike a deal between the British and the 27 countries they're leaving.
With barely a white hair out of place, tall, always immaculately turned out, and with a reputation as a quietly spoken, suave yet steely operator, Barnier, 65, will prove more than a match for the pro-Brexit politicians on the other side of the English Channel, according to people who know him. But they insist he's no ideologue either; he'll take conflicting views on board and try to reach a deal acceptable to all.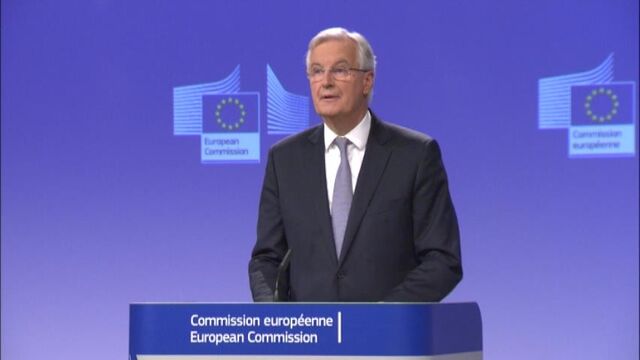 "He believes in the ideals of Europe but he's not completely dogmatic in that -- he looks for solutions," said Sharon Bowles, a member of the U.K.'s House of Lords, who got to know Barnier between 2010 and 2014 when she was in charge of the European Parliament's economics committee and Barnier was the EU's internal market commissioner.
Why Britain Is Saying 'Adieu' to the European Union: QuickTake
Bowles described Barnier as a "passionate European" which, she said, despite how that label might go down in the U.K., suggests he'll be fair to Britain. "If we end up where the EU is just sanctioning the U.K., just because it can be nasty, he'll know that will do the EU's reputation a lot of damage," Bowles said. "He's the sort of person who'll have his antennae out for that."
While doing his financial-services job, Barnier was the face of the euro area's banking and debt-crisis response, coming up with a plethora of draft laws aimed at clamping down on the perceived excesses of the money men, introducing limits on risky derivatives trading, rules for the amount of capital banks should hold, and a framework for keeping taxpayers off the hook when banks fail.
Financial District
It meant that during his time as European commissioner, the British government clashed repeatedly with the EU over issues such as the location of clearinghouses and curbs on bankers' bonuses. Barnier frequently had to rebuff U.K. claims that his policies were hurting London's financial district and causing a shift of business to centers in the euro area. He was described in the British press as the "most dangerous man in Europe," a reputation that he struggled to shake off when he was named the EU's Brexit negotiator earlier this year.
His warning on Tuesday that the Brexit negotiations need to be wrapped up inside 18 months met with an irritated response from Downing Street. "It's the first I've heard of it," Prime Minister Theresa May's spokesman Greg Swift told reporters.
British Conservative lawmaker Andrew Tyrie said "Barnier's latest contribution is of just the type calculated to raise the political temperature at a time when he should be lowering it."
But Barnier has an understanding of British sensitivities, according to people who have worked for him. They insist that when commissioner he was careful not to propose legislation that might damage the City of London and frequently visited the British capital. Earlier in his career, his stint as EU commissioner for regional policy saw him involved in the Northern Ireland peace process.
The father-of-three always believed the EU should be a powerful player on the world stage with the U.K. as a full member, officials said. That's something that Barnier hinted at on Tuesday when he held his first main press conference since he took office on Oct. 1.
First Time
"I was 20 years old, a very long time ago, when I voted for the first time and it was for a French referendum on the accession of the United Kingdom to the European Community," Barnier said in Brussels. "At that time I campaigned for a Yes vote, and I still think that I made the right choice."
Nonetheless, Barnier's task will be to represent the views of the rest of the EU rather than satisfy the U.K. One of his roles may be "to reassure the French that their interests are being taken into account" too, said Sylvie Goulard, a French member of the European Parliament.
Barnier was French environment minister in the mid-1990s, at the time Chancellor Angela Merkel was doing the same job in Germany, worked with British chancellors in his previous EU role, and got to know David Davis, the U.K.'s Brexit minister, when both were their countries' respective Europe ministers.
He will work with a team of 30 officials of various nationalities with expertise in different negotiation areas. His deputy, Sabine Weyand, is a German trade specialist.
Barnier insisted on Tuesday that the U.K. will not retain the same level of rights as EU members. Yet there's a lot still to be worked out and, he said, barely 18 months in which to do it, during which period the constructive spirit of all sides could be tested.
"His instinct is always that a good deal is better than a bad confrontation -- at the same time, if there is to be a confrontation, he's not shy either," said Guersent, who from that first day in the Brussels bar rose to become the head of Barnier's cabinet between 2010-2014. "Britain can expect a tough but fair negotiator."
— With assistance by Patrick Henry
Before it's here, it's on the Bloomberg Terminal.
LEARN MORE