Airlines Must Tell Passengers If Phone Calls Allowed Under Proposed Plan
By
Transportation agency may require disclosing onboard calling

Response to complaints about irritating phone calls in-flight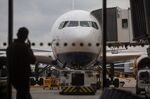 The U.S. Transportation Department proposed requiring airlines to tell consumers if passengers can use mobile phones for calls during their flight, and said it's considering banning voice calls, rekindling a years-long debate centered on jabbering seatmates in close-quarter cabins.
"Consumers deserve to have clear and accurate information about whether an airline permits voice calls before they purchase a ticket and board the aircraft," Transportation Secretary Anthony Foxx said Thursday in an e-mailed news release. "Today's proposal will ensure that air travelers are not unwillingly exposed to voice calls, as many of them are troubled over the idea of passengers talking on cell phones in flight."
The department also is seeking comment in coming months on whether it should simply ban voice calls on flights within, to, or from the U.S., the news release said.
Airlines oppose the proposal, and flight attendants who would referee disputes over noisy phone use support it.
Flight Attendants
"The American public does not want voice communication in flight," Sara Nelson, president of the Association of Flight Attendants-CWA (AFA), said in an e-mailed statement. "Anything short of banning voice calls is reckless. It threatens aviation security and increases the likelihood of conflict in the skies."
Vaughn Jennings, a spokesman for the Washington-based airlines trade group Airlines for America, said calls aren't properly a matter for federal regulators.
"We believe airlines should be able to determine what services can be safely offered in flight and make those decisions based on what is in the best interests of their passengers and crew members," Jennings said in an e-mail.
Passengers have told the agency that voice calls in the confined space of an aircraft cabin are disturbing, the department said.
"Absolutely not!!!!!" said an anonymous person commenting in a Transportation Department rule-making docket that attracted more than 1,700 comments. "To force travelers to be subject to constant phone conversations will create severe discomfort that is impossible to escape."
Under Thursday's proposal, consumers will need to be notified that a flight allows voice calls as they're shopping for trips. The proposal covers airlines and ticket agents.
The Federal Communications Commission in 2013 took a preliminary vote on clearing the use of mobile phones and hasn't finished its rule. Foxx at the time said he would use his authority over airline consumer affairs to decide whether voice calls are fair.
The Federal Aviation Administration, an arm of the Transportation Department, in 2014 lifted a separate ban on use of personal electronic devices that connect via Wi-Fi radio bands.
The Transportation Department in Thursday's notice said FCC prohibitions don't cover Wi-Fi and other means of making voice calls.
— With assistance by Alan Levin
Before it's here, it's on the Bloomberg Terminal.
LEARN MORE