Airbus Wins $1.8 Billion Canadian Rescue-Plane Contract
By
Deal could roughly double in value with possible extension

French firm beats out Leonardo, Embraer for government job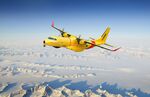 Airbus Group SE won a C$2.4 billion ($1.8 billion) contract with the Canadian government to replace its search-and-rescue planes, beating out Leonardo-Finmeccanica SpA and Embraer SA for the deal.
Canada awarded Airbus an 11-year contract, with a possible 15-year extension of the deal that could push its total value to C$4.7 billion, Public Services and Procurement Minister Judy Foote said Thursday. The previous government had estimated a cost of C$3.4 billion for the program.
The government is buying 16 Airbus C295W planes and will phase out its existing fleet, acquired as early as 1960. The planes are scheduled to be delivered between 2019 and 2022.
"This aircraft is a game-changer for search and rescue in Canada," Defence Minister Harjit Sajjan said at a news conference held at a military base in Trenton, Ontario.
Airbus teamed up with Newfoundland-based Provincial Aerospace Ltd., Pratt & Whitney Canada -- the engine-making unit of United Technologies Corp. -- and Quebec flight simulator maker CAE Inc. Once the Canada deal is finalized, a total of 185 C295s will have been ordered by 25 countries, Airbus said.
Industry Benefits
"We are acutely conscious of the importance of search and rescue in Canada's vast and challenging territory and we are honored to have been selected to provide the aircraft and service to ensure that the role is carried out effectively," Simon Jacques, president of Airbus Defence and Space Canada, said in a written statement Thursday.
Foote recently said Canada is placing a larger emphasis on spinoff benefits in procurement decisions. On Thursday, she said the Airbus bid was "specifically structured to take full advantage of this country's strength in commercial and defense aerospace manufacturing." In its statement, Airbus said Canadian manufacturing components make the C295s about 20 percent Canadian.
The purchase shows the growing importance of industrial benefits in Canadian procurement decisions, according to Richard Shimooka, a research fellow at the Ottawa-based Conference of Defence Associations Institute. The criteria allowed the C295 to win despite concerns over its performance, Shimooka said. "This aircraft likely won certainly on cost, but also certainly the value proposition," he said, referring to the spinoffs. "I think it's revealing."
CAE's share of the contract may exceed C$300 million, "with meaningful equipment components in the initial one or two years followed by several years of revenues from recurring services," Fadi Chamoun, a BMO Capital Markets analyst in Toronto, said Thursday in a note to clients. He expects "sustained moderate growth" in CAE's defense unit, following several years of "muted" demand. Pilots and technicians for this program will be trained at a CAE facility in Comox, British Columbia.
Fighter Jets
Canada's search-and-rescue procurement process began over a decade ago. The race was said to have narrowed to a contest between Airbus and the Leonardo-led consortium's C-27J Spartan. Embraer also submitted a bid. "In the original procurement, the C-27J was a clearly more effective aircraft," for the Canadian Forces, Shimooka said. With the C295, "there's higher risk involved."
In a statement, the Leonardo consortium confirmed it had been told its bid was not chosen, and declined further comment. Embraer responded by saying flight testing of its KC-390 plane is progressing toward certification next year and that it's convinced its plane is the best for Canada.
Prime Minister Justin Trudeau's government is also replacing its fighter jet fleet, announcing last month it planned to buy 18 Boeing Co. Super Hornets as a stopgap measure while beginning an open bidding process for a permanent replacement for its aging CF-18s.
— With assistance by Frederic Tomesco
Before it's here, it's on the Bloomberg Terminal.
LEARN MORE