A New Generation of Farmers Rents to Cope With Soaring American Cropland Prices
The number of U.S. tenant farmers age 25 to 44 has climbed 9 percent since 2007.
By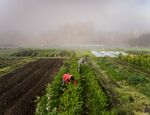 Helena and Matthew Sylvester would love to plant fruit trees and blackberries on their Bay Area organic farm, but they're holding off because they don't own the land. Like a growing number of young farmers across the country, they lease it year-to-year. That means the Sylvesters must weigh every improvement carefully. "Last year, a week before my husband and I were going to get married, our landlord told us they were going to pave over 2 acres of our farm," says Helena, 29. Although she and her husband were able to block those plans, the experience "makes me hesitant to think we could financially invest, because that could happen again," she says.
The overall number of farmers in the U.S. has been shrinking steadily, but the number of tenant farmers age 25 to 44 climbed almost 9 percent from 2007 to 2012, according to the latest U.S. Department of Agriculture (USDA) census. In California, the country's leading agricultural producer, it rose 22 percent; in Washington and Oregon, it was up 9 percent and 11 percent, respectively.
Many of the new tenant farmers identify with the locally grown food movement and are cultivating high-value organic produce. U.S. sales of organic food climbed to a record $43.3 billion in 2015, and there's still plenty of room to grow: The category accounts for only about 5 percent of all food sales, according to the Organic Trade Association. "I had a general feeling of distrust in the industrial food system, and I wanted to be able to provide good-quality food to my community, especially to our families and friends," says Helena.
Young tenant farmers like the Sylvesters are often wary of sinking money into land they don't own. They're also limited in their ability to borrow because they can't pledge the acreage they cultivate as collateral. And unlike the preceding generation of farmers, they're hurt by rising land values.
Adam Calo, a Ph.D. candidate in the University of California at Berkeley's Department of Environmental Science, Policy, and Management who studies beginning farmers, cites the case of one young tenant in Hollister, Calif., who spent $20,000 to dig a well only to have the landowner put the property up for sale. Another was evicted after planting an acre and a half of strawberries because his landlord feared he would exhaust her water supply. Calo says a neo-feudal system has emerged: "Wealthy landowners reap private long-term benefits with an underclass of semipermanent farm operators."

The Sylvesters pay almost $4,000 a year to rent 2.5 acres in Sunol and $1,500 a month for a nearby house. They have scant savings and are $16,000 in debt. USDA data show that sales at farmers markets may have peaked, though the couple say they haven't felt the effects in their part of the country, which has a high concentration of locavores. Their Community-Supported Agriculture program has 40 members who each pay $600 for a season's worth of fresh produce. The CSA provides about a third of their revenue; farmers markets and restaurants each contribute another third. After operating expenses, "this will be the first year we'll be able to set a little aside for ourselves," Helena says. She wants to have a child in the near future but isn't sure there will be enough money to support a family. For many of their peers, there isn't: Just 48 percent of beginning farmers who reported positive sales to the USDA in 2007 also did so in 2012.
Some are banding together in formal co-ops and informal partnerships to spread risk and pool resources. Two years ago, Middlebury College graduate Eric Harvey, 29, joined Our Table, a farm co-op in Sherwood, Ore. The 10 members farm 6 acres of vegetables, 11 acres of blueberries, and a half-acre of flowers and herbs. "I was looking for a model of agriculture that provides a better livelihood for farmers and builds community around the farm," Harvey says. "Rising land costs due to development, viticulture, nurseries, and now cannabis are making land access prohibitive."
The average price of an acre of cropland soared from $1,590 in 2002 to $4,090 as of August, according to the USDA. Seventy-six million acres of farmland have disappeared in the past 30 years, snapped up by investors and developers and converted into pasture and parks. About 40 percent of the remaining 911 million acres is rented, as more aging and retired farmers are choosing a steady income stream over the windfall from an outright sale. Only 10 percent of America's total acreage is expected to change hands through 2019, and most of that will do so through gifts, trusts, and wills, rather than sales, the USDA says.
The land-succession issue and the graying farmer population (the average age is 58) have spurred the USDA to pour almost $130 million into beginning-farmer education and training programs since 2009. Also, 75 percent of funding through the Farm Service Agency, the USDA's lending arm, is reserved for beginning farmers. In fiscal year 2016, the agency made or guaranteed almost 6,000 landownership loans to beginning farmers, totaling about $1.5 billion, roughly double the dollar figure in 2010.
The Sylvesters may never be able to buy land in their area, where demand for luxury homes near Silicon Valley has bid up prices to stratospheric levels. But they believe their diversified approach will enable them to get by. "If we have a poor tomato harvest, we can lean on our lettuce," says Matthew, 31. "If we have a poor winter squash harvest, we lean on our onions."
They've given themselves a five-year deadline to see if they can earn a big enough profit to make farming worth their while. One advantage of their situation, Helena says, is that winding down the operation would be a cinch: "If we decide this is too much for us, we can sell what assets we have and walk away."
The bottom line: The number of U.S. tenant farmers age 25 to 44 has defied overall trends, climbing 9 percent from 2007 to 2012.
Before it's here, it's on the Bloomberg Terminal.
LEARN MORE