Zimbabwe Chrome Miners Relinquish Some Licenses to Government
Chengetai Zvauya
Licenses will be given to small-scale miners selling to state

State-owned Apple Bridge Investments will trade in chrome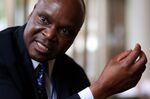 Mining companies including Sinosteel Corp.-owned Zimasco (Pvt) Ltd. have ceded chrome-mining licenses to Zimbabwe's state-owned Apple Bridge Investments, which buys chrome ore for export, Mines Minister Walter Chidakwa said.
The mining licenses, known as claims, have been allocated to small-scale miners who dig the mineral on Zimbabwe's Great Dyke mountain range. Apple Bridge, formed by the government in August with a $100 million loan, buys exclusively from those producers.
Small-scale miners in Zimbabwe, known as tributors, traditionally sell chrome ore to Zimasco and Zimbabwe Alloys Ltd., the two biggest chrome miners in the country, that in turn smelt the mineral into ferro-chrome for export. A fall in prices led both Zimbabwe Alloys and Zimasco to cut smelting operations, leaving many tributors unpaid. Apple Bridge was formed by the government to salvage the chrome-mining operations.
"In the past two weeks, the selling price of chrome on the world market has improved tremendously and Apple Bridge has been doing well," Chidakwa told lawmakers on Wednesday, adding that the government's relationship with foreign chrome miners is "working smoothly."
Zimbabwe has the world's second-largest deposits of chrome after neighbor South Africa.
Before it's here, it's on the Bloomberg Terminal.
LEARN MORE