Emerging Markets Rise Before ECB Decision Amid Export Outlook
By , , and
The dollar will weaken in 2017 on Trump policies, Mobius says

Final European Central Bank meeting for 2016 starts Wednesday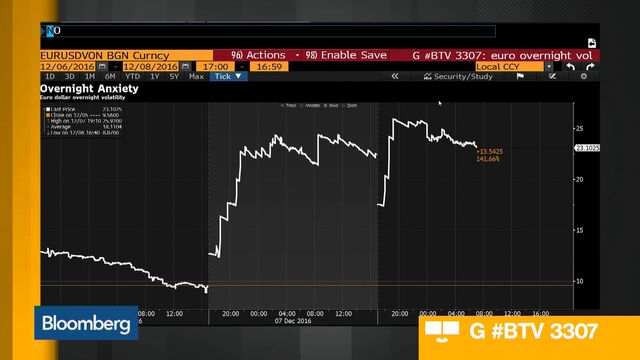 Gains for Brazil's real, South Africa's rand and Turkey's lira lifted an index of emerging-market currencies for a fourth day. Stocks advanced on optimism European policy makers will extend a stimulus program likely to boost demand for exports.
The MSCI EM Currency Index added 0.6 percent, posting a fourth day of gains, the longest streak since September
The MSCI Emerging Market Index climbed 0.7 percent, led by materials and energy sectors
Frontier Market Index stocks advanced for a fifth day
The lira strengthened 1.7 percent to 3.3897 per dollar on speculation Prime Minister Yildirim could unveil measures tomorrow that may be positive for the currency. The rand posted its strongest close since Nov. 9. The rupiah advanced after Indonesia's finance ministry said overseas investors bought net 6.4 trillion rupiah ($480 million) of debt in the five days through Monday. The real appreciated as local media reported behind-the-scenes talks to find a solution to an institutional crisis.
Mobius Sees Weaker Dollar
The dollar will probably depreciate next year as U.S. President-elect Donald Trump seeks a weaker currency to make local industries more competitive, Mark Mobius, executive chairman of Templeton Emerging Markets Group, told Bloomberg Markets Most Influential summit in Abu Dhabi. Mobius said he's a big investor in Thailand and that Vietnam, one of the most exciting prospects for 2017, is "amazing." The 80-year-old is comfortable investing in Brazil and called on India to open up more to portfolio investors.
Comment of the Day
"Balance sheets in Western nations are plagued with unfunded commitments to pay," Donald Roy Amstad, a director at Aberdeen Asset Management, said on a panel at a conference in Abu Dhabi. "It's the elephant in the room, the West is bust. When you lend money to them, you get zero, effectively."
For fixed-income investments, Aberdeen looks for solvent nations, such as the Philippines. If he had to choose one country to invest in over 10 years, Amstad said he'd choose India. "By targeting inflation, the Reserve Bank of India is helping the country catch up with China; the rally in India's bond market will continue."
ECB Impact
Bloomberg's index of emerging sovereign, dollar-denominated debt rose for a second day on Tuesday. President Mario Draghi heads the Governing Council's final policy meeting of 2016 starting Wednesday, when it will review the bond-buying program that policy makers say is critical for the euro area's recovery.
"What you would expect going into the ECB is that there would be some extension of the quantitative easing and that does give a lot of comfort to the market," Neeraj Seth, the head of Asian credit at BlackRock Inc. in Singapore, said on Bloomberg TV. "So you do have obviously a backstop to some extent by the central bank."
Other Markets
Yuan drops after currency's fixing cut by most in more than 3 weeks
Brazil's Ibovespa stock gauge rises 0.5 percent
Johannesburg's Africa All Shares Index climbs 1.1 percent
Philippines Stock Exchange PSEi Index and Shanghai Stock Exchange Composite Index rise at least 0.7 percent
What to Watch
Ghanaians head to the polls on Wednesday to elect a president
South Korea's opposition is pressing ahead with plans for impeachment
U.A.E. oil minister says OPEC will act again if prices fall
Reserve Bank of India leaves key repurchase rate unchanged at 6.25 percent
Research
Capital Economics cuts South Korea's economic growth estimate for 2017 to 2 percent from 2.5 percent, and now sees a rate cut next year
Goldman Sachs Group names Yandex NV, Etalon Group Ltd., Lukoil PJSC and X5 Retail Group NV as top picks. Key trends for Russia in 2017 include "lower interest rates, rising industrial activity, increasing investment, stable low inflation and recovery in consumption activity"
Commerzbank AG says its end-2017 forecast for the lira, 3.75 per dollar, is subject to significant upside risk unless the central bank can demonstrate the ability to ignore government remarks and keep the real interest rate significantly positive
Before it's here, it's on the Bloomberg Terminal.
LEARN MORE