pursuits
Ultra-Low Rates to Grip Europe 'a Very Long Time,' Denmark Says
By
Danish central bank boss says short rates unaffected by U.S.

Rohde says Trump trade war fallout would be "negative, huge"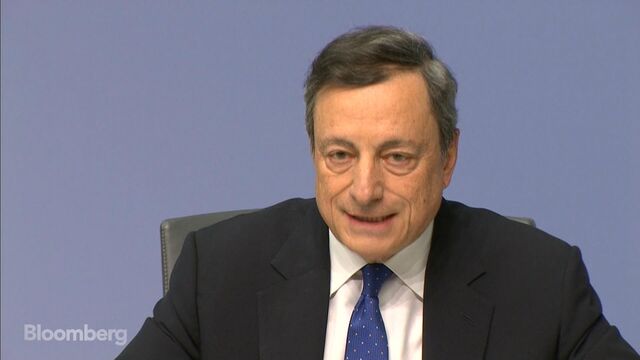 The governor of Denmark's central bank sees monetary policy at the European Central Bank anchoring short-term interest rates at their current ultra-low level well into the future.
Lars Rohde, whose job requires him to track ECB policy because of Denmark's euro peg, says the economic outlook for the U.S. won't change the trajectory faced by Europe for short-term borrowing costs.
"Looking at the short end of the market, it looks like the view in Europe remains that monetary policy rates will remain where they are for a very long time," Rohde said in an interview in Copenhagen on Wednesday.
The ECB is expected to deliver a fresh round of stimulus on Thursday, according to almost all economists in a Bloomberg survey. For Denmark, the country in the world with the longest history of negative rates, that means the prospect of normalizing monetary policy remains remote. Its benchmark deposit rate has been minus 0.65 percent since January.
Nordea, the Nordic region's biggest bank, expects the ECB to extend its bond purchase program by six months past March 2017, and even sees the possibility that President Mario Draghi will move ahead with additional measures. These could include operations designed to add liquidity at the very long end of the curve. Nordea doesn't expect the ECB to cut rates, according to an e-mailed note by Jan Storup Nielsen, a senior analyst at Nordea in Copenhagen.
Read more: This hedge fund says European bonds are oversold
Both the ECB and The Danish central bank are likely to keep their deposit rates below zero for at least two more years, Nordea estimates.
Rohde, who presides over a central bank that has kept rates negative for the better part of half a decade, said on Wednesday that Denmark now faces an economic "boom" as it risks running out of labor resources to meet demand. The domestic economy is heating up, with low rates fanning the housing market, but GDP growth will remain below 2 percent through 2018 because of weak exports.
And that's where the policies of U.S. President-elect Donald Trump become the elephant in the room. Rohde says the potential fallout of the real estate mogul's trade proposals alone could be "negative and huge."
"Throughout the world, a large proportion of growth has been propelled by internationalization for the past 20-30 years," Rohde said. "That's led to massive welfare gains for the vast majority of people, so this has the potential to become very negative."
Asked whether a global trade war sparked by U.S. protectionism could shape monetary policy in Europe, Rohde said "No, I don't see that. It's very early days, but I don't envision that."
Before it's here, it's on the Bloomberg Terminal.
LEARN MORE