Trump Says He'll 'Get the Prices Down' on Air Force One in Boeing Talks
By
President-elect would stick with current jets if no deal

Planemaker says it's 'committed' to work with administration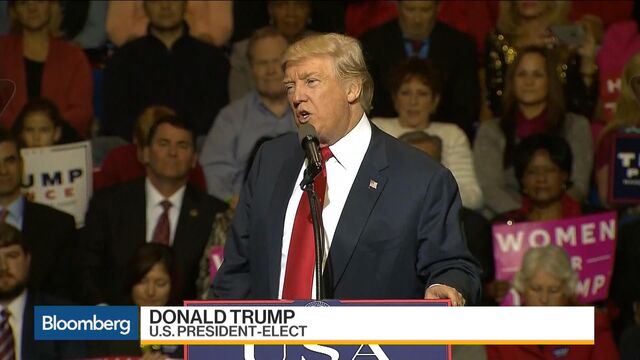 A day after calling out Boeing Co. on Twitter over the the cost of a new Air Force One order, President-elect Donald Trump said he spoke with the head of the company and would work out a better deal or else scrap the purchase.
"We're going to get the prices down and if we don't get the prices down, we're not going to order them," Trump said Wednesday in a phone interview with NBC. "We're going stick with what we have."
Trump singled out Boeing days after Chief Executive Officer Dennis Muilenburg called on him and Congress to ensure that U.S. companies have the tools to compete in a global economy. The Chicago-based planemaker, the nation's top exporter and a major defense contractor, is under contract to build enhanced 747 jets that can transport presidents for decades. Boeing on Wednesday said the CEO spoke with Trump about topics including the presidential aircraft and the importance of U.S. manufacturing. 
Muilenburg is "committed to working with the new administration to control costs as they establish requirements for the new Air Force One to keep the program as affordable as possible," according to a statement from the company.
Trump tweeted on Tuesday that "costs are out of control" for planned planes to serve future presidents' extensive security and cyber-communications needs. Costs are "more than $4 billion. Cancel order!" he wrote. Later in the day, the president-elect told reporters in the lobby of Trump Tower that "we want Boeing to make a lot of money, but not that much money."
Boeing has said it is under contract for $170 million in the current phase of the program.
The firm's stock was little changed at $152.34 at 11:28 a.m. in New York. The stock fell as much as 1.5 percent before regular trading Tuesday after Trump's tweet and recovered during the trading day.
— With assistance by Rick Clough
Before it's here, it's on the Bloomberg Terminal.
LEARN MORE