Trump Said to Pick General Kelly as Homeland Security Secretary
By
Kelly would be third former general on president-elect's team

Former aide to defense secretaries lost son in Afghanistan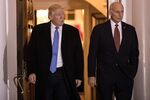 President-elect Donald Trump plans to nominate retired Marine General John Kelly as homeland security secretary, according to a person familiar with the transition, elevating a third retired military officer to a senior administration position and choosing a man who recently said he had no desire to return to the Washington political scene.
At the Department of Homeland Security, which was created after the Sept. 11 terrorist attacks, Kelly would oversee an array of agencies including the Secret Service, Coast Guard, Federal Emergency Management Agency and Customs and Border Protection. Trump's most frequent campaign vow -- that he would stop illegal immigration and build a wall along the border with Mexico -- would fall directly under his purview if he wins Senate confirmation.
Trump's intention to nominate Kelly was reported earlier by CBS. The person confirmed the choice on condition of anonymity because it hasn't been formally announced.
The selection of Kelly, who also was mentioned as a potential secretary of state, is likely to add to criticism that Trump is relying too heavily on former military leaders rather than civilians as he shapes his Cabinet. After Trump said on Dec. 1 that he'd be nominating General James Mattis as defense secretary, Representative Adam Schiff, the top Democrat on the House intelligence panel, warned the president-elect against nominating "any further military personnel to high positions of civilian leadership in his administration."
Three Generals
Trump, who once said he knows more about defeating Islamic State "than the generals do," has now selected three of them for top positions in his administration. If confirmed by the Senate, Kelly, 66, and Mattis will join Michael Flynn, the former lieutenant general who was named Trump's national security adviser, on Trump's team.
While Flynn was a Trump backer from the start of the campaign, Kelly kept his own political leanings secret. He wasn't among the retired military officers who signed a letter declaring Trump unfit for office, and said in an interview with Foreign Policy magazine earlier this year that he would accept a job with either nominee's administration. He said the nation's leaders would be "in desperate need" of military and foreign policy advice because the world "is just getting crazier and crazier."
Like Mattis, Kelly has expressed views at odds with some of Trump's statements during the campaign. In the interview with Foreign Policy, Kelly questioned Trump's plan for a wall along the U.S.-Mexico border, saying "no wall will work by itself."
Kelly enlisted in the Marines in 1970. His overseas service included two years spent as special assistant to the NATO commander, starting in 1999. As head of Southern Command for three years, he oversaw U.S. military operations in Central and South America and the Caribbean as well as the Guantanamo Bay prison in Cuba. He served three tours in Iraq.
His son Robert, a second lieutenant in the Marines, was killed in Afghanistan in 2010 when he stepped on a mine. Kelly called out Americans for ignoring the sacrifices of the country's military and offering only empty platitudes to those who fight.
The nomination means Kelly must confront what, upon retirement in January, he called one of his fears -- a full-time job in the nation's center of government and politics.
"I'd prefer not to be that, to come up the Beltway every day," he told Defense One when he stepped down as head of Southern Command.

— With assistance by Kevin Cirilli
Before it's here, it's on the Bloomberg Terminal.
LEARN MORE