markets
Somali President Vote Should Be Before 2017, UN Says
By
African nation urged to choose head of state before end-Dec.

UN says reports of vote-buying, electoral abuses are credible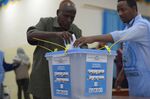 Somalia must hold its presidential vote before the end of December, the United Nations said, warning that prolonging the already delayed election process could stoke insecurity in the war-ravaged Horn of Africa country.
Electoral time-lines should be "compressed" and legislators who've been elected must convene and choose a new president "later this month," Joseph Contreras, a spokesman for the UN mission in Somalia, said in an e-mailed response to questions.
"It's in the interest of the Somali people to conclude this protracted electoral process as soon as possible and, at any rate, before the end of the year," Contreras said. "The longer the presidential elections are delayed, the greater will be the financial and security implications," he said, without elaborating.
Somalia, which has been embroiled in conflict since the ousting of dictator Mohamed Siad Barre in 1991, is trying to use recent advances against al-Qaeda-linked militants by its national army and an African Union mission to lure investors and rebuild the economy.
The country, whose institutions have largely collapsed, doesn't select its leaders by popular vote because the electoral body doesn't have the capacity to conduct a nationwide poll. Under its electoral process, which began in October, electoral college members have so far chosen 212 of the lower house's 275 lawmakers. Members of parliament in turn will choose between President Hassan Sheikh Mohamoud and his more than a dozen challengers.
'Negative Consequences'
Contreras said it was unclear whether all seats in parliament's upper and lower houses had to be filled before the head of state is chosen. "If that is not required, then a presidential election theoretically could take place after the existing group of MPs-elect has been sworn in," he said.
There's a risk of "very negative consequences" if there are further delays, Contreras said. "The legitimacy of the new government will be at stake, as will the ability of international partners to maintain support for the important agenda facing the country next year."
He described allegations of corruption and vote-buying in the choosing of lawmakers as "credible" and urged registered candidates who feel "victimized by such unacceptable practices" to lodge complaints with an independent electoral dispute body.
(
Corrects identity of groups choosing lawmakers in fifth paragraph of story originally published Dec. 7.
)
Before it's here, it's on the Bloomberg Terminal.
LEARN MORE