Prince Charles to Meet Mark Carney for Bank of England Tour
By
Prince of Wales will get a tour of bank's gold vaults

Heir to the throne will be briefed on cyber security, housing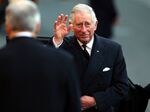 The Bank of England is getting a royal visit.
Prince Charles will tour the bank and meet Governor Mark Carney Wednesday "to recognize and celebrate the bank's mission to promote the good of the people of the U.K. by maintaining monetary and financial stability."
The prince -- the heir apparent to Queen Elizabeth II -- will be shown around the central bank, including its gold vaults. He'll also meet the deputy governors and staff working to reduce the BOE's environmental impact, and will receive a private briefing on cyber security and the risks from house-price inflation.
The visit, the prince's first since 2002, comes after a year of skirmishes between the BOE and some politicians over Brexit, as well as criticism of Carney for being too political. That's an accusation some have also leveled at Prince Charles, a topic that was revived in 2015 after the publication of some of his letters to government ministers. 
Before it's here, it's on the Bloomberg Terminal.
LEARN MORE