Alarm Bells Over FTSE's 'Head and Shoulders' Symptoms
By
FTSE 100 is in 'head and shoulders' technical pattern

Drop below key level could trigger more losses, say analysts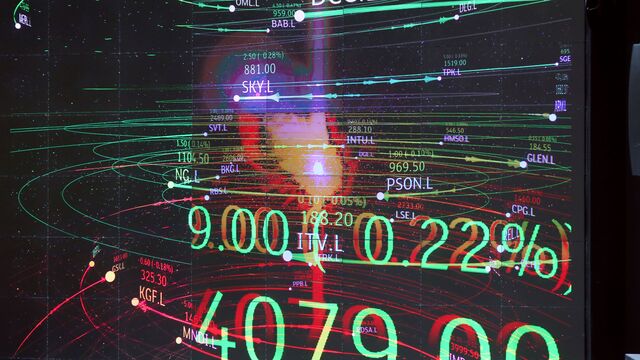 After a rally that's made it one of Europe's best-performing benchmarks of the year, the U.K.'s FTSE 100 Index is in a formation that -- if completed -- could see it tumble as much as 10 percent from current levels. Since June, the gauge has followed what technical analysts call a "head and shoulders" pattern, which foreshadows a bullish-to-bearish trend reversal.
The index dominated by megacaps surged to a near-record close in October, fueled by a post-Brexit plunge in the pound, before losing steam. A drop below 6,650 could see it fall to as low as 6,164, according to Francis Hunt, who runs the technical analysis website themarketsniper.com, He accurately predicted that crude prices would slump in 2014 and that the euro-Swiss franc floor would fail in early 2015.

"We have a head-and-shoulders pattern that is well-formed, showing a degree of exhaustion," said Hunt. "All we need is a sustained move below the neckline -- the 6,650 level -- for a final confirmation. That's when people should short."
The FTSE 100 traded at 6,871.13 as of 10:43 a.m. in London. Hunt predicts it will breach the 6,650 level in the early weeks of 2017.
Cyclical shares, including banks and commodity producers that are among the FTSE 100's biggest members, are "at risk of taking a breather," UBS Group AG's technical analysts including Michael Riesner wrote in a note Tuesday.
Weaker sterling and increased stimulus from the Bank of England after the U.K.'s secession vote boosted exporters in the months after Brexit. The FTSE 100 is up 10 percent this year, outperforming all western-European benchmarks except Norway's.
"The pound is coming back up, which makes things pretty difficult for the FTSE 100," said Andrea Tueni, a trader at Saxo Bank in Paris. "It's trading not far from the head-and-shoulders neckline. Crossing it could spark a selloff." 
Sterling hit a two-month high on Tuesday, following its first monthly gain since April.
— With assistance by Blaise Robinson
Before it's here, it's on the Bloomberg Terminal.
LEARN MORE