Monte Paschi Seeks ECB Reprieve as It Tries to Avoid Bailout
By , , and
Lender struggles to attract investors after referendum

Firm requests deadline extended from year-end to Jan. 20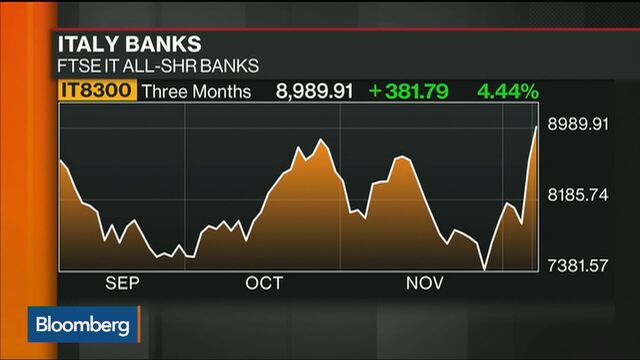 Banca Monte dei Paschi di Siena SpA asked the European Central Bank for more time to put together a 5 billion-euro ($5.4 billion) capital increase it needs to avoid a state bailout that would impose losses on shareholders and bondholders.
Monte Paschi's board asked the ECB to extend the deadline from the end of the year to Jan. 20 "due to the changed reference context," the Siena-based bank said in a statement late Wednesday. The ECB's supervisory board is likely to discuss the request when it meets starting on Thursday afternoon, two people with knowledge of the matter said.
The request for a delay is a long-shot effort to find a white knight investor to swoop in and save the bank without the need for state aid, said Wolfango Piccoli, co-president of Teneo Intelligence, a New York-based research firm.
"That is the only hope for the mainstream political parties," he said. "The bail-in will be politically toxic no matter who is in power. No leader will be keen on executing it with a potential new election around the corner."
A delay would give Italian leaders time to put a new government in place following the resignation of Prime Minister Matteo Renzi on Wednesday night. Political uncertainty may be affecting Monte Paschi's efforts to sign up a large-scale "anchor" investor to bolster a share sale that's part of a complex three-part plan to improve its capital ratio. If the plan fails, it becomes more likely that the bank will turn to the Italian state for fresh money.
Monte Paschi climbed as much as 7.5 percent in Milan trading and was up 7.1 percent at 22.43 euros as of 1:26 p.m. The stock has declined 81 percent this year.
Read more: Italy's Bank Crisis Isn't Renzi's Problem Anymore
Chief Executive Officer Marco Morelli crisscrossed the globe to explain how the bank can rebound by shedding bad loans, raising capital and reorganizing its business. Monte Paschi advisers are in talks to win the commitment of investors including sovereign funds, people have said.
Monte Paschi, which reported a loss of 1.15 billion euros in the third quarter, was told by the ECB to clean up its balance sheet and bolster finances after it emerged as the most vulnerable lender in a European stress test in July.
The firm, hurt by derivatives deals that hid losses under previous management, has received 4 billion euros in taxpayer bailouts, most of which it has repaid, and 8 billion euros from investors since 2009. Many of the Monte Paschi debtors who could lose out in a state rescue are individuals with savings accounts at the bank.
Employees of Deutsche Bank AG may have manipulated internal indexes as part of an allegedly fraudulent scheme to help Monte Paschi conceal losses, according to an audit commissioned by German regulators and seen by Bloomberg.
Buying Time
"They are allowing more time to see if the 'private sector solution' can work and, if not (as is quite likely), to devise some degree of state support to allow the restructuring to be completed," Federico Santi, an analyst with Eurasia Group, said in a note to investors on Thursday. "The government's strong preference remains avoiding resolution."
A state rescue may not take the form of a full-fledged bail-in that would hurt the bank's many small-scale bondholders the most. The government is working on a so-called precautionary recapitalization if the private funding plan fails, people familiar with the process have said.
Monte Paschi's plan has three interlocking pieces: a debt-for-equity swap, a stock offering and the disposal of 28 billion-euro pile of soured loans. In the debt swap, bondholders agreed to exchange more than 1 billion euros of subordinated notes for shares. But that won't go ahead if the bank can't raise new money as well.
The failure of the recapitalization would be a blow to Italy's sputtering efforts to revive a banking industry that's burdened with about 360 billion euros in troubled loans, dragging down the economy by limiting lending. Earlier this year, the state helped orchestrate a bank fund to rescue Banca Popolare di Vicenza SpA and Veneto Banca SpA after investors snubbed their initial public offerings and approved a law to guarantee bad loans and ease their sale.
— With assistance by Edward Robinson, and Tom Beardsworth
Before it's here, it's on the Bloomberg Terminal.
LEARN MORE