Mobius Sees Weaker Dollar Next Year as Trump Boosts Industry
Jason Kelly and Natasha Doff
Currency has surged to highest in more than a decade

Trump needs weak dollar to make industry competitive: Mobius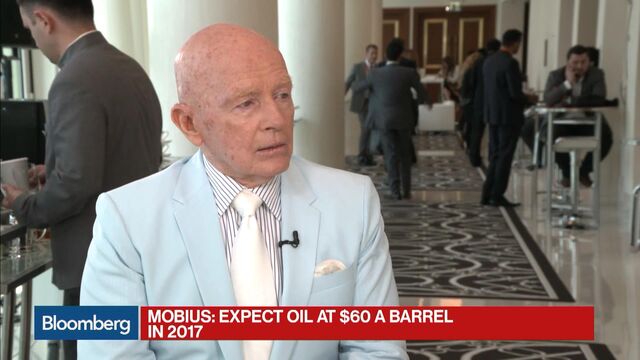 Mark Mobius thinks that the dollar may be going down, not up.
The greenback is set to weaken as the U.S. government under Donald Trump increases spending on defense and infrastructure, Mobius, executive chairman of Templeton Emerging Markets Group, said Wednesday. A lower-valued currency, coupled with faster U.S. economic growth, will benefit the rest of the world, especially emerging markets, he said.
"Don't be surprised if the U.S. dollar gets weak, and not stronger," Mobius said at the Bloomberg Markets Most Influential summit in Abu Dhabi. "If Trump is going to make America industry competitive, he needs a weak dollar."

The dollar has surged since Trump's election on speculation his proposals to increase spending and cut taxes will fuel economic growth and prompt the Federal Reserve to boost interest rates. Hedge funds and other large speculators have boosted bullish dollar wagers to the most since February, according to Commodity Futures Trading Commission data, and Goldman Sachs Group Inc. President Gary Cohn has warned that the currency's strength poses a growing threat to U.S. manufacturers.
The Bloomberg Dollar Spot Index, which tracks the greenback against 10 major peers, was little changed on Wednesday. It has retreated 1 percentage point since reaching the highest level in more than a decade late last month.
"Trump's administration will be beneficial for the rest of the world simply because of the fact that he will focus on the growth of the economy," Mobius said. "To the extent that he is successful in growing America, he will be good to the rest of the world."
— With assistance by Filipe Pacheco, and Arif Sharif
Before it's here, it's on the Bloomberg Terminal.
LEARN MORE