Italy President Makes Renzi Hang on as Talks With Parties Start
By and
President Mattarella delays accepting Renzi's resignation

Consultations with parties start Thursday at 6 p.m. in Rome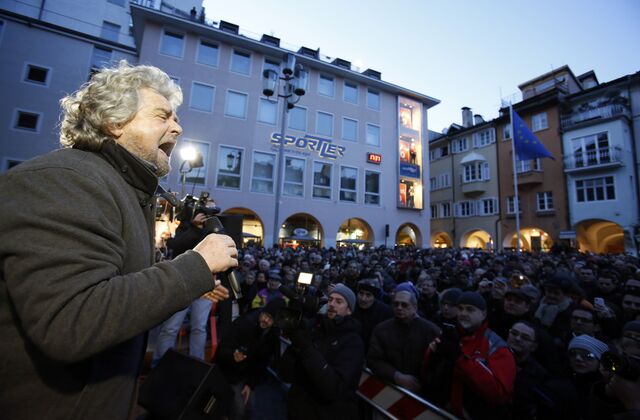 While Italian Premier Matteo Renzi formally resigned late Wednesday after suffering a defeat in a referendum on constitutional reform, the country's president still won't let him leave.
Italy's President Sergio Mattarella said he'd delay accepting the resignation, as he begins talks with the country's main political parties at 6 p.m. on Thursday in Rome.
The premier, 41, had come under pressure to stay on. Mattarella wanted Renzi to reconsider his decision in order to provide political and economic stability after the prime minister first offered to step down on Monday, a senior state official who asked not to be named because the issue is confidential, said earlier.
Before heading to the presidential palace to resign, Renzi said in a post on twitter: "Thanks to everyone. Long Live Italy."
Electoral Law
With Mattarella due to begin talks with leading political figures, Renzi's defeat has triggered speculation in Italy about his plans and the shape of the next government. In a speech to party members in Rome Wednesday, Renzi said all parties in parliament should have a say in choosing the next prime minister and there can be no early elections until the Constitutional Court has ruled on a controversial electoral law in January.
"We are scared of nothing and of no one, so if other political forces want elections right after the Constitutional Court decision, let them say so," Renzi said.
Mainstream parties want to change the electoral law because in its present form it gives an automatic majority to the leading party and they fear the winner could be the anti-establishment Five Star Movement, which wants a referendum on whether to leave euro. The court will consider the law on Jan. 24 and the next elections aren't scheduled until early 2018.