Italian Calm Seen Fleeting as Investors Fret on Election and ECB
by and
Italy politics unclear after vote, with ECB taper risks: Janus

Aberdeen sees euro at $1.02 if early Italian elections held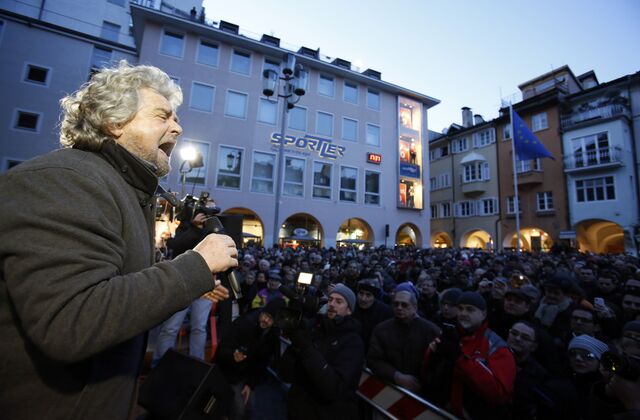 A rapid recovery in the euro and Italian bonds in the wake of the nation's failed referendum hasn't convinced investors that they are immune to political risks.
Parity between the euro and dollar and a near-doubling of the yield on Italy's 10-year bonds would be "totally possible" if new elections were held, said Indosuez Wealth Management chief economist Marie Owens Thomsen. Such a situation would make both assets an obvious sell, according to Aberdeen Asset Management Plc's James Athey. Janus Capital Group Inc. is staying away from Italian bonds and Old Mutual Plc opened a new short position on the debt.
During previous times of political stress in the region, the European Central Bank has provided support through its quantitative easing program, though that pattern is threatened this time. While the central bank is expected to extend the plan at its meeting on Thursday, strategists see a risk it could signal a scaling back of the purchases.

"There is still a lot to figure out politically," said Ryan Myerberg, a portfolio manager in London for Janus' $36.8 billion fixed income business. "The ECB meeting is also another reason why we're happy to be underweight Italian government bonds. The risk of tapering is rightfully an ongoing concern."
* Fears about the prospect of an early election are linked to the potential for a rise to power of anti-establishment Five Star Movement, which is virtually tied with the ruling Democratic Party in polls; it has promised to deliver a referendum on euro membership.
* An early vote scenario remains unlikely because a change to the current procedure for choosing the lower house would likely be needed first. Thomsen assigns a 10 percent probability of the Five Star Movement governing, and a renewed euro crisis.
* "The market has not been prepared for early elections," said Aberdeen's Athey. If markets start pricing that in, the euro could fall to $1.02, while the spread between Italy 10-year yields and German peers could widen to 2.5 percent, he said.
* Once the ECB meeting on Thursday is out of the way, then investors might start to get back into Italian bond markets, Myerberg says. He sees upside risk for the euro if the ECB scales back asset purchases.
* The ECB meeting is probably making investors reluctant to sell Italy but expectations seem fairly uniform and should have been factored into the price, Old Mutual's Nicholas Wall said.
* Italian 10-year bonds yielded 1.89 percent as of 12:58 p.m. in London after reaching 2.06 percent on Monday. The euro was at $1.0732, after dropping to $1.0506 following the referendum, the lowest since March 2015.
Before it's here, it's on the Bloomberg Terminal.
LEARN MORE