Investors Set for Action in Final ECB Policy Meeting of Year
By , , and
Officials signaling QE extension needed to sustain recovery

Stimulus disappointment one year ago sent euro surging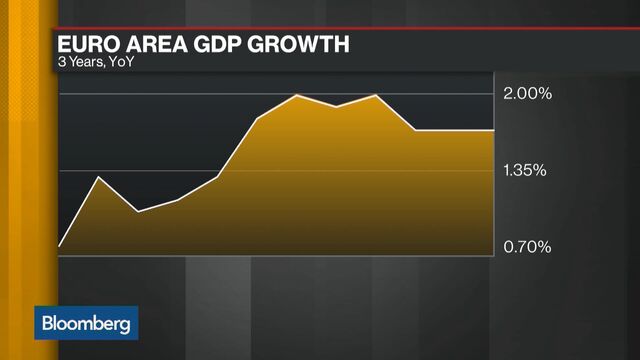 Investors are about to find out what the European Central Bank means when it pledges to maintain "substantial" monetary support for the region.
President Mario Draghi heads the Governing Council's final policy meeting of 2016 starting Wednesday, when it will review the bond-buying program that policy makers say is critical for the euro area's recovery. The risk now is of a failure to meet market expectations that sparks a selloff. Most economists in a Bloomberg survey predict the two-day session will culminate in a decision to prolong asset purchases after March at the current monthly pace of 80 billion euros ($86 billion) for about six months.
"Even if he extends by six months and maintains the current run rate, I think it's difficult to satisfy the market appetite," said Jack Kelly, an Edinburgh-based money manager at Standard Life Investments Ltd. "The market will immediately focus on the next year ahead and what the tapering prospects are."
A key measure of any disappointment in Thursday's announcement is likely to be the single currency itself. In December 2015, Draghi said officials would "do what we must" to raise inflation as quickly as possible, building expectations that a substantial stimulus package was on its way. When he came out with a small deposit-rate cut and an extension of quantitative easing, but no increase in monthly purchases, the euro surged the most in six years.

The euro was little changed at $1.0732 at 2:46 p.m. Frankfurt time. Overnight volatility jumped to the second-highest reading ahead of an ECB meeting this year.
The Governing Council's official line is that policy makers "remain committed to preserving the very substantial degree of monetary accommodation" needed to meet the inflation goal of just under 2 percent. Even Bundesbank President Jens Weidmann, a frequent critic of ultra-loose policy, said last month that bond purchases should be phased out only gradually.
At the same time, Draghi has held out the prospect of stretching stimulus longer but thinner. He told Spanish newspaper El Pais in an interview published last week that support can come from "different combinations of instruments, for instance the amount of monthly purchases or the length of time over which they take place."
Any QE extension is likely to require the ECB to tinker with its rules to overcome scarcity concerns. One option would be removing the requirement that it can only buy bonds with a yield at or above the deposit rate of minus 0.4 percent. That would free up shorter-duration debt in some nations for purchase.

Bonds with a market value of 1.3 trillion euros had yields below the deposit rate on Dec. 6, data compiled by Bloomberg show, making up about 22 percent of the region's total. That's lower than the 1.76 trillion euros at the start of October. Of the bonds freed up due to the advance in yields, some are excluded by other eligibility criteria. 
Another route to increasing the availability of eligible debt would be to raise the limit on how much of each bond issue or issuer the ECB can buy. That upper bound is set in most cases at no more than 33 percent but could be lifted, for example to 50 percent. The ultimate aim would be to ensure the QE program doesn't run out of steam before price stability is properly entrenched.

One area where investors don't expect any action on Thursday is interest rates -- a sign that conventional tools are essentially at their limit. With the main refinancing rate at zero and the deposit rate at minus 0.4 percent, banks are crying out over the squeeze on their profitability.
The probability that the deposit rate will be kept unchanged is 99 percent, according to market options. That compares with a chance of just 20 percent as recently as July.

"It's a really difficult call this December for the markets," said Luke Hickmore, an Edinburgh-based senior investment manager at Aberdeen Asset Management Plc. "Would they be disappointed if the ECB doesn't support the market? Yes. Will there be much of a reaction? I think that's a lot harder to pin down."
Before it's here, it's on the Bloomberg Terminal.
LEARN MORE