India Joins Japanese Calls for U.K. to Work Together on Brexit
by
Diplomat says Indian companies face same risk as British ones

Patnaik says U.K. must engage in 'collaborative approach'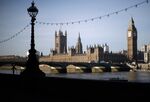 India echoed Japan's call for U.K. Prime Minister Theresa May to communicate more with countries outside of Europe on her plans for Brexit.
India's top diplomat in the U.K., Dinesh Patnaik, made the request in an interview in which he argued collaboration is necessary given the number of Indian companies with connections to the British economy.
"Indian companies here will face the same problems that Britain will face on Brexit, so you cannot go and do a Brexit negotiation with the EU without taking into confidence other companies," Patnaik said. "You can't look at them as foreign companies and not look at them as British companies."
Indian-owned businesses, led by Tata Group, employ almost 110,000 people in the U.K., accounted Grant Thornton estimated in a report this year. May visited India last month in an attempt to promote post-Brexit trade and investment.
India's request for insight echoes that made in October by the Japanese ambassador to London, Koji Tsuruoka, who said the U.K. must hold regular meetings with other countries to discuss its Brexit strategy.
"A collaborative approach is where everybody who is based here in the U.K. and working here works together to ensure that there is a best deal out of Brexit," Patnaik said. "Free flow of information, knowledge of what is happening, where negotiations are going, are some red lines being crossed or not? -- all those things are necessary."
Indian companies would suffer if the country's banks with operations in the U.K. lost easy access to the rest of the EU or if immigration controls limited the ability of Indian companies in Britain to hire skilled workers from the EU, he said.
Still, he said, India might benefit from Brexit if it got better access for fruit and vegetables that are currently blocked by EU environmental standards.
"Overall I am positive for India on Brexit but, Brexit or no Brexit, our relations with the U.K. were on the upward path both politically and economically and they will continue to be so," Patnaik said.
Before it's here, it's on the Bloomberg Terminal.
LEARN MORE