Real Estate
If You Voted for Trump, It's Time to Buy a House
Republicans were pessimistic about the housing market when he trailed in the polls. No more.
By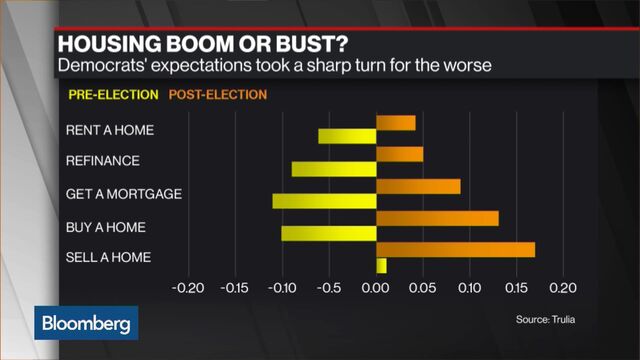 In the housing market, perception often creates its own reality. Investors will bid up values in anticipation of a rezoning effort that allows for new development. Lenders tighten credit standards in anticipation of new regulations. And voters—at least according to one new survey—get bullish when their candidate wins.
During the last week of October, when Hillary Clinton was ahead in the polls, Trulia commissioned surveys of 2,000 Americans. Respondents who identified themselves as Republicans said that 2017 would be worse than 2016 for selling a home, buying a home, getting a mortgage, or finding rental housing. Democrats thought that 2017 would be better in each of those categories. After Donald Trump's surprise electoral college win, outlooks for Republican and Democratic respondents flipped—in every category.

"It's really not very intuitive," said Ralph McLaughlin, chief economist at Trulia. The second survey, for instance, was conducted after mortgage rates spiked in response to the election results. "Even if your side wins, if mortgage rates go up, you might get pessimistic about your chances of buying a home."
These are dramatic swings, and it's tempting to attribute them to an emotional response following a result that caught most people by surprise. After all, there still isn't enough housing inventory to keep up with demand, especially for the entry-level homes that first-time buyers can afford. While mortgage rates did increase after the election, most analysts had been predicting rates would rise in 2017 regardless of who won.

A new president, meanwhile, has plenty of power to reshape the housing market. Steve Mnuchin, whom Trump tapped to head the U.S. Treasury, has promised to release the mortgage giants Fannie Mae and Freddie Mac from federal conservatorship. Trump's choice of the retired neurosurgeon Ben Carson to run the U.S. Department of Housing and Urban Development signaled potential changes in where—or whether—the federal government will seek to promote affordable housing.
Those moves are likely to change the way Americans buy, sell, and rent homes. So are proposals for tax reform and infrastructure spending that could make homebuyers feel like they have more to spend. On the other hand, an immigration crackdown might make it harder for homebuilders to find cheap labor. A stronger economy could increase demand, but won't help buyers unless it comes with an increase in new supply.
Nevertheless, there is indeed some reason to think Republicans are justified in being optimistic. The inventory shortages roiling markets on the coasts are less of an issue in the Midwestern and Southern states that voted red. Trump's focus on reviving manufacturing industries, despite the lack of a clear plan on how that would be accomplished, could mean more jobs in states that voted for him. Rising interest rates have a bigger nominal impact on more expensive homes, and are more likely to push a buyer past their breaking point in expensive markets where asking prices have already stretched paychecks thin.
Even in the rosiest of outcomes, most of these changes will take time to filter down to the individual housing market participant. Perception that change is coming, on the other hand, can be instantaneous.
"Expectations move the market," said Svenja Gudell, chief economist at Zillow. "It happens all the time."
Before it's here, it's on the Bloomberg Terminal.
LEARN MORE