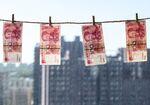 China's savers, who sock away cash like almost no one else in the world, are racking up more debt as borrowing options proliferate.
Ninety-four percent of consumers used a credit or loan in the past year, up from 85 percent two years ago, according to a survey by market researcher Mintel Group Ltd. Peer-to-peer lending via online lenders jumped, while car loans and mortgages nearly doubled, the poll showed.

Huo zai dang xia, or living in the moment, is the new buzzword. It's especially prevalent among consumers in their 20s, according to Aaron Guo, a senior analyst for Mintel in Shanghai. 
"Compared with their parents' generation, who tend to save more and are sometimes thrifty, youngsters are willing to spend more on products with special features or tailored services," he said.
That's a profound shift in attitudes for a nation where saving has long been the bedrock principle of personal financial management and a prerequisite for big milestones like cars, homes and kids. Deposits stand at 59.6 trillion yuan ($8.67 trillion), People's Bank of China data show.  
The newfound willingness to borrow from the future to enjoy the present could help support consumption in coming years and nudge the nation's rebalancing away from old traditional drivers. China's gross domestic product rose 6.7 percent in the third quarter from a year earlier on the back of resilient retail sales, which expanded 10.3 percent in the year to date.
The borrowing could be just getting started. China's household outstanding loans will continue to rise at a rate of 14 percent for the following five years and exceed 60 trillion yuan by 2021, the Mintel report said.

The hot real estate market is also playing a role. Soaring property prices have increased the amount of medium- and long-term household loans since 2015, and are helping more consumers get comfortable with borrowing money from internet-based consumer financial services, two of which are related to the country's largest e-commerce companies. Alibaba Group Holding Ltd. affiliate Ant Financial operates the Huabei consumer financing loan platform, while JD.com Inc.'s finance affiliate operates rival lending tool Baitiao.
Still, consumers still tend to save much more than their overseas counterparts as they prepare for big-ticket items such as medical care and tuition. Mintel research found nearly half of consumers said they'd rather increase savings instead of spending more, if they have extra money.
— With assistance by Yinan Zhao
Before it's here, it's on the Bloomberg Terminal.
LEARN MORE