'Speed Matters' in Brexit Talks, British Business Lobby Says
By
CBI wants swift talks once transitional arrangement in place

Business worries about uncertainty, 'cliff edge' of leaving EU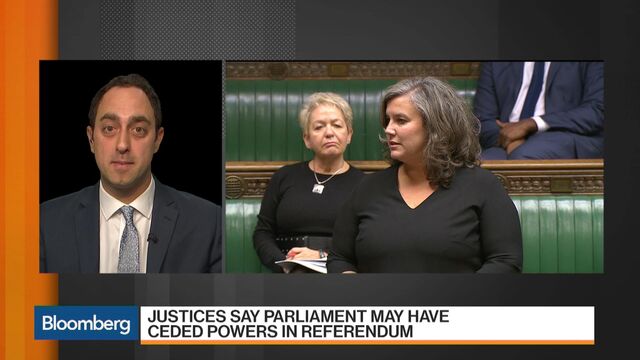 Swift and decisive negotiations with the European Union are essential once the U.K. triggers Brexit, the head of the country's main business lobby group told lawmakers as Prime Minister Theresa May and challengers in Parliament and the private sector square up over the schedule for leaving.
Businesses want government to "get on with it -- but also get it right," said Carolyn Fairbairn, director-general of the Confederation of British Industry, fielding questions from Parliament's Exiting the European Union Committee on Wednesday.
"Speed matters, but not if we don't have those plans in place," she told the panel, formed after the U.K.'s June vote to leave the EU. "An exit with a cliff edge is not something which any of our members want. A speedy exit where there is an adjustment period, I think, is something our members are looking for."
CBI members have indicated they would like at least 9 to 12 months' lead time for trade preparations and contingency measures to be put in place before any new laws are applied, Fairbairn said.
This could be complicated by the EU's position, as officials in Brussels have signaled they want a swift departure. Michel Barnier, the European Union's chief Brexit negotiator, said Tuesday that an interim arrangement was possible, but only once the U.K. has struck a deal on its post-Brexit trade relationship with the bloc.
"There would be some point and usefulness to a transitional period if it is the path to this new partnership," Barnier told reporters in Brussels on Tuesday.
Trade Deals
U.K. business leaders have called for a transitional deal because trade negotiations can drag on. Fairbairn cited a recently concluded agreement between the EU and Canada, which took seven years.
"We have to be prepared for the fact that history tells us trade deals can take a very long time," she said.
Members of the House of Commons on Wednesday debated a motion that backs May's schedule for beginning the formal Brexit process by the end of March. The U.K.'s Supreme Court is hearing a government challenge to a lower court's ruling that May can't start those procedures without a vote in Parliament.
May has agreed to reveal more details of her Brexit plans, but some supporters of leaving the EU say she shouldn't give too much away before the negotiations start, in order to maintain bargaining power.
"I would actually be very keen to make sure I keep my cards close to my chest," John Longworth, co-chairman of campaign group Leave Means Leave and former director-general of the British Chambers of Commerce, told the Brexit committee. "I do think, however, that the government ought to declare a direction of travel, so that businesses can prepare and plan for Brexit day."
Before it's here, it's on the Bloomberg Terminal.
LEARN MORE