markets
Venezuela Opposition Walks Out of Vatican-Mediated Dialogues
By
Opposition blames government instransigence for skipping talks

Pressure from abroad increasing as Venezuelan crisis deepens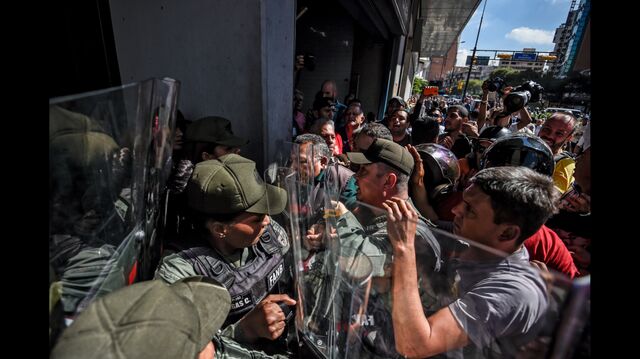 Venezuela's opposition sat out a third scheduled meeting with the government that was part of Vatican-sponsored talks as their hopes of achieving a regime change is looking increasingly dim.
Coalition chief Jesus "Chuo" Torrealba said early Tuesday the opposition alliance wouldn't attend the talks, blaming the ruling socialists for reneging on promises to ease the country's bitter political standoff. For weeks, the alliance, or MUD, has demanded that President Nicolas Maduro make concessions to ease tensions, such as releasing dozens of jailed activists, allowing humanitarian aid into the country or appointing new electoral authorities.
Yet on Tuesday the MUD didn't appear any closer to achieving their goals than when they first sat down with the Maduro administration in October, with neither side showing a willingness to back down. 
"The dialogue process in itself has been very costly to the opposition," said Eurasia Group analyst Risa Grais-Targow.
Previous rounds of negotiations showed promise as the opposition agreed to call off protests and the government released a handful of jailed activists. Since then, talks have stalled as the clock ticks on the opposition's drive to force a referendum to remove Maduro before the end of the year.
"The dialogue shouldn't exist simply to buy the government time," Torrealba said. "It shouldn't be a tool used for making a mockery."
The timing is crucial. Losing a recall vote before year's end -- as polls overwhelmingly suggest Maduro would -- would spark fresh elections and the potential end of almost two decades of socialist rule. However, if the vote were held next year, the constitution states the vice president would take over, maintaining Maduro's party's grip on power.
The oil-rich nation has been mired in an institutional crisis since the opposition took control of Congress in January and promised sweeping changes. Despite dismal poll numbers, Maduro has remained unyielding, using compliant courts to block his opponents' legislative initiatives and their attempts to hold the recall referendum.
The MUD accuses Maduro of taking an increasingly authoritarian line to maintain a failed political model, while the beleaguered president insists that the opposition's efforts are nothing short of a coup d'etat.
Torrealba said his coalition would continue to talk with international mediators and that it may retake its seat at the table if the government fulfills its promises. For now, "it would be insincere to sit there as if nothing was happening," Torrealba said.
Facing a potential breakdown in dialogues, many see the opposition with few options remaining in its effort to oust Maduro before his term ends in 2019. "They will end up focusing on the streets," said Grais-Targow, "but it will very hard to capture the momentum."
(
Updates with analyst's comments beginning in third paragraph.
)
Before it's here, it's on the Bloomberg Terminal.
LEARN MORE