Trump Sold All His Stocks in June and Doesn't Hold Boeing
By and
President-elect criticized cost of Air Force One upgrade

Republican has said he isn't 'big investor' in stock market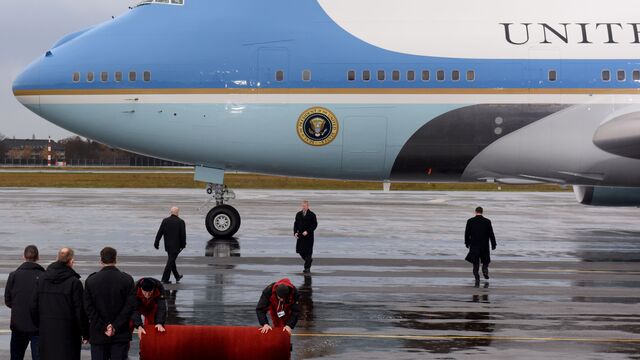 President-elect Donald Trump sold all of his stocks in June, a spokesman said, divesting himself of holdings including Boeing Co., the target of a Trump tweet on Tuesday over the cost of a new presidential aircraft.
Trump had between $50,000 to $100,000 of Boeing stock when he filed his personal financial disclosure on May 15. Trump said Tuesday that a contract with Boeing to replace Air Force One should be canceled because of "ridiculous" costs, taking aim at plans to replace jets that are among the most visible symbols of the American presidency.
Asked whether he had a stake in the company, Trump spokesman Jason Miller told reporters on a conference call Tuesday morning that Trump sold his stock in June. Miller later clarified in a text message to Bloomberg News that that meant all of his holdings.
Trump's disclosure showed he held as much as $38 million in stocks of companies including Citigroup Inc., Apple Inc., Exxon Mobil Corp. and Ford Motor Co., in addition to Boeing.
Trump had said in an Aug. 2 interview with Fox Business that he didn't own stocks. He "got out, and it was actually very good timing," Trump said, without specifying the dates of any sales.
"But I've never been a big investor in the stock market," he added. The Standard & Poor's 500 Index has returned 3 percent since the interview.
Previous presidents have sold stock holdings and placed the proceeds into blind trusts managed by independent overseers so they can't be accused of having conflicts of interest. Trump has said he'll announce on December 15 plans to leave his business, the Trump Organization, "in total."
Miller didn't immediately clarify if Trump had also sold corporate bonds that he owned as of the May disclosure.
During his campaign, Trump decried the state of the economy, the national debt and the Federal Reserve's policies keeping interest rates low, saying stock prices were artificially inflated. 
"The only thing that looks good is the stock market, but if you raise interest rates even a little bit, that's going to come crashing down," he said during his first debate with Democrat Hillary Clinton in September. "We are in a big, fat, ugly bubble."
Before it's here, it's on the Bloomberg Terminal.
LEARN MORE