Winning Bond Trade of 2016 Gets Even Better in Trump's New World
By and
Cross-currency basis spread versus yen widens on dollar crunch

Goldman Sachs unit among investors seeing opportunity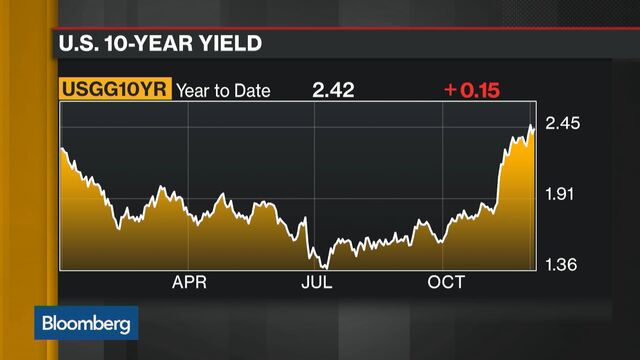 One of the best bond trades of 2016 is getting even better thanks to Donald Trump's election victory, proving a boon for firms including Goldman Sachs Asset Management.
With the dollar surging to the highest in more than a decade and Treasury yields soaring to levels not seen since 2015, demand for the greenback is climbing in global funding markets. American bond investors have rarely been in a more advantageous position when it comes to the cost of hedging foreign-exchange risk via a transaction known as a cross-currency basis swap.
The phenomenon is inflating returns on foreign debt for dollar-based managers, while eroding the value of U.S. investments for Japanese and European buyers. It's a new frontier for the fixed-income universe: As recently as 2014, there was next to no premium on borrowing dollars in global hedging markets. Yet post-crisis regulations have crimped American banks' lending in the greenback, leaving money managers to fill the void in a wager that the squeeze will only worsen.

"The opportunity is just so attractive to lend your dollars," said Mike Swell, New York-based co-manager of the $8.8 billion Goldman Sachs Strategic Income Fund. Its two biggest positions as of Sept. 30 were Japanese government securities maturing in 2018. "As long as you see very easy money and negative rates in Europe and in Asia, and a move toward higher rates in the U.S., you're going to continue to see demand for dollars."
The money manager joins U.S. investors such as Pacific Investment Management Co. that have capitalized on the distortion. Since the start of 2016, managers at the Goldman Sachs unit have been boosting positions in the trade and advising clients to allow for it. 
Read more: Investors with dollars to spare are in the driver's seat.
While the quirk is creating a profitable trade for some, it's also adding to strain in a crucial corner of the global financial system -- the worldwide market for obtaining dollars. The greenback is costlier to come by as international investors seeking higher yields cram into channels like cross-currency basis swaps. Central banks are contributing to higher dollar funding costs as they burn reserves to prop up local currencies, according to Societe Generale SA.
Trump's election, by spurring bets on fiscal stimulus and quicker economic growth, has revived the trade. After stabilizing for months, the basis spread on dollar-yen cross-currency swaps with a three-month horizon reached 92 basis points last week, the widest since Bloomberg began compiling data in 2011. Between the dollar and euro, the spread touched 62 basis points, the most since Europe's sovereign debt crisis in 2012.
For dollar-based investors, even Japanese three-month bills yielding minus 0.33 percent generate a positive return after taking into account cross-currency basis swaps.
Lender's Advantage
To buy the bills, a fund manager borrows yen and lends dollars. They pay the three-month yen London interbank offered rate of negative 0.06 percent and receive dollar Libor, at 0.95 percent. On top of that, the dollar lender receives the basis spread on the cross-currency swap. That brings dollar-hedged yields on the Japanese bills to almost 1.5 percent.
Strategists at Credit Suisse Group AG and Deutsche Bank AG predict the spreads will widen before year-end and into 2017, boosting the trade's yield even further.
The main driver in coming weeks: a Federal Reserve interest-rate hike this month is seen as a virtual lock, raising the appeal of the dollar and higher-yielding U.S. debt.
The cost of borrowing greenbacks is rising as traditional suppliers of dollar funding are under pressure. American banks, facing regulations to ensure they're well-capitalized, have less capacity to facilitate cross-border currency flows, said Zoltan Pozsar, a research analyst at Credit Suisse in New York. Money-market reform, which has spurred an exodus of cash from prime money funds, also squeezed a source of dollars, he said.
"The community that can step in to bridge imbalances in order flows has been decimated," Pozsar said. "The only players left in the system that can give you dollars on scale, at any time, but at a very steep price, are American banks." The dollar-yen basis spread may reach 150 basis points, he said.
See also: Bond market's big illusion revealed
The widening cross-currency basis spread risks chasing away buyers of American debt, even as Treasury yields surge.
"The attractiveness of investing in Treasuries is rising, but currency hedging costs are also rising, so the actual appeal of investing isn't rising that much," said Takuro Nishida, a section manager in the investment planning department of Sompo Japan Nipponkoa Insurance Inc. in Tokyo. "And we're not about to buy them unhedged."
Foreign investors in U.S. fixed-income are left with few palatable options. Either take on more currency exposure, purchase riskier securities or buy longer-maturity obligations for the extra yield. Underscoring the risk, 30-year Treasuries have lost 14 percent since Sept. 30, according to a Bank of America Corp. index.
In the meantime, Swell at Goldman Sachs is benefiting from the cross-currency trade. Returns in the Strategic Income Fund have stayed mostly steady in the past month even as the global bond market suffered unprecedented losses.
"If you're sitting on dollars and you're defensive, you can make extremely attractive returns relative to sitting in bills or a money market fund," Swell said. "In terms of risk-adjusted returns, this is one of the best things out there."