Trump Policies Power Dow to Record, Leaving S&P 500 in the Dust
by
The stock benchmarks are the least correlated in six years

President-elect's agenda favors industry-dominated Dow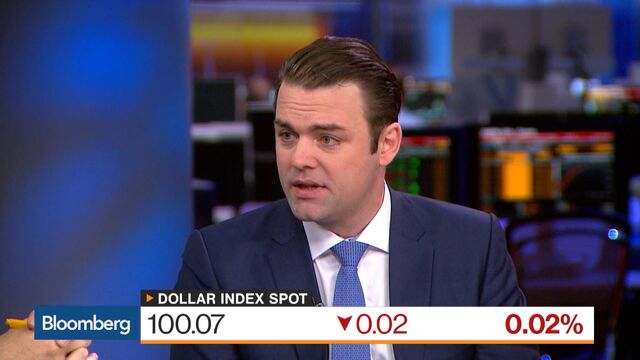 Donald Trump's vows to ramp up infrastructure spending and ease banking regulations are giving a burst to the Dow Jones Industrial Average that's sending it rocketing past the broader market.
The 120-year-old stalwart of the U.S. equity market powered to a fresh record Monday as the S&P 500 Index hovered nine points below its own all-time high and traded near its biggest discount to the Dow since May 2014. The two indexes are the least correlated in almost six years as the blue-chip measure benefits from the burnished outlook for industrial companies and banks ushered in by Trump's win, while losses in technology companies and utilities tug at the S&P 500.

Speculation the president-elect's agenda will favor U.S. manufacturers and big factory employers has lit a fire under the Dow, which counts industrial stocks like General Electric Co. and Boeing Co. as its biggest sector with a 20 percent weighting. They're less than 11 percent of the S&P 500.
The Dow is set to outperform its broader counterpart on an annual basis for the first time since 2011, rallying 10 percent this year, while the S&P 500 has climbed 7.9 percent. The day before the election they were pretty much neck-and-neck, with the Dow up 4.8 percent in 2016 and the S&P 500 headed for a yearly advance of 4.3 percent.

The 7.9 percent climb in U.S. industrial stocks since Nov. 7 is second only to the 15 percent surge racked up by financial shares, with banks buoyed by plummeting bond yields. In fact, the S&P 500's industrial sub-index rose to a level Dec. 1 that marked its biggest premium since 2011 over the wider benchmark. 

Utilities have led losses in the S&P 500 since the election, slipping 5.2 percent, while technology shares -- thought to be disadvantaged when it comes to the president-elect's trade and immigration policies -- have fallen by 1.3 percent. Tech has the biggest weighting in the S&P 500 at 21 percent, followed by banks with 15 percent and health-care and consumer-discretionary shares at 14 percent and 12 percent, respectively.
Before it's here, it's on the Bloomberg Terminal.
LEARN MORE