Thailand's Central Bank Stands Ready for Global Risks
By
Economy expanding well below potential growth rate of 4.5%

Central bank intervenes in fx market if excessive volatility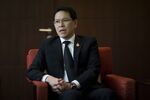 Thailand's central bank is keeping enough ammunition in store to respond to a downturn in world trade amid a wave of anti-globalization sentiment that's swept from the U.K. to the U.S.
With global risks rather than domestic ones dominating policy makers' attention, Bank of Thailand Governor Veerathai Santiprabhob said the monetary authority is ready to take action if there's a significant threat to the economy's recovery. Growth of 3.2 percent forecast for this year -- an estimate that will come up for revision at a policy meeting in two weeks time -- is already well below the 4.5 percent pace it has the potential to expand at, Veerathai said in an interview.
"The current policy stance is accommodative in the current situation," Veerathai, 46, said at his offices in Bangkok on Tuesday. "The MPC has said publicly all along that we are ready to take additional easing if and when we see that there is a major risk to the Thai economy" and policy makers "stand ready to deploy more monetary policy easing in that scenario."
The possibility of a global downturn led by a slump in trade is among the biggest external threats for an open economy like Thailand's. It's already one of the slowest growing nations in Southeast Asia because of weak exports, depressed private-sector investment and sluggish consumer spending in the face of a year-long mourning period for the late King Bhumibol Adulyadej.
The Bank of Thailand has kept its benchmark interest rate unchanged at 1.5 percent for a dozen meetings, despite headline inflation remaining persistently below the target range of 1 percent to 4 percent. With the impact of low oil prices falling out of the calculation, inflation is set to return to the target band next year, Veerathai said.

Donald Trump's victory in the U.S. and the U.K.'s decision to leave the European Union have added to global uncertainty. Trump has pledged to scrap a U.S.-led trade deal that would've benefited Asian nations and increase import tariffs on China, an outcome that could slow growth and start a potential trade war between the world's two biggest economies.
"The consequences of Brexit on the global economy are yet to be realized," Veerathai said. "The new president-elect Trump's international trade policy, that could have implications for an open economy like Thailand." China's transition from a mainly export-led economy to a consumption-based one "could have an adverse impact also, " he said.
"If there are any major adverse incidents occurring, the policy space will help us get through that," the governor said.

Goldman Sachs Group Inc. expects the central bank to lower borrowing costs in the first half of 2017, while Australia & New Zealand Banking Group Ltd. sees no change through the whole of next year.
Veerathai, who got his PhD from Harvard University at the age of 24, was previously an economist at the International Monetary Fund in Washington, held an executive position at Siam Commercial Bank Pcl in Bangkok and was vice president of The Stock Exchange of Thailand.
His five-year term as governor of the central bank began in October 2015, a year before the king's death. Bhumibol was seen as a pillar of stability in a country that's still run by a military junta following a 2014 coup.
Thailand Referendum
The timeline for a return to democracy in Thailand remains unclear, one possible reason why some investors have stayed on the sidelines. Foreign investors pulled about $2.1 billion from Thai government bonds and $1.5 billion from the nation's stock market so far this quarter.
"The referendum of the new charter that was well approved, I think that put a foundation for the path to return to democracy," Veerathai said. "For investors that have invested in Thailand for quite some time, I think they quite understand the political risks involved and how to manage them."
The baht has dropped 1.8 percent against the dollar in the past month as investors raised their bets on higher U.S. interest rates following Trump's victory. The currency is still 1.2 percent stronger against the dollar this year and was trading at 35.666 as of 3 p.m. in Bangkok on Wednesday.
Veerathai said the baht has relatively strong buffers, including a current-account surplus that's close to 10 percent of gross domestic product and foreign-currency reserves that are three times more than the country's short-term external debt. Non-residents hold about 8 percent of Thai bonds, while in neighboring countries the proportion is closer to 30 percent, he said.
"We do intervene if and when we see a need to intervene to ensure that the movement in the exchange rate would not have an adverse impact on the economic recovery," he said. "We have a floating exchange rate regime. We would come in to intervene if the volatility has been excessive or the baht is moving out of sync with our major trading partners."
— With assistance by Nasreen Seria, and Sunil Jagtiani
Before it's here, it's on the Bloomberg Terminal.
LEARN MORE