Abenomics Bears Have It All Wrong, Soros Alumnus Says
By and
Shiozumi, T. Rowe Price's Ciganer see Japan stock rally

Buybacks and dividends set to rise to a record: Morgan Stanley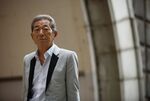 Reports of the death of Abenomics have been greatly exaggerated.
That's according to top Japan managers including a former stock-picker for George Soros and a T. Rowe Price Group Inc. executive, who predict that investors who fled the market this year before the world's steepest rebound are going to miss out on even more gains. The managers are adding to a chorus of bullish calls on the nation's stocks, as strategists from Morgan Stanley to Bank Julius Baer & Co. have turned more optimistic.
Prime Minister Shinzo Abe's corporate governance push has spurred record dividend payouts and share buybacks, while Japanese companies are investing more of their money overseas, which will boost stocks next year and beyond, these managers said. That would extend a rally in Japan's equities after they staged the world's biggest comeback this year thanks to a more favorable stance from the central bank and a weakening yen following Donald Trump's win in the U.S. presidential election.
The optimism is giving a new lease of life to Japanese stocks, after disappointed investors withdrew 6.2 trillion yen ($54 billion) from the market in the first nine months of 2016 and hedge fund firms including Myriad Asset Management and Lotus Peak Capital shuttered strategies that sought to profit from the reforms. Hideo Shiozumi, who previously picked stocks at Soros's Quantum Fund and has beaten 98 percent of peers over the past five years, said investors had underestimated the time it would take to implement the three-pronged push that Abe unveiled in 2013.

Shiozumi, 72, has his own timeline for Abenomics. The first stage was characterized by great enthusiasm, which has since died down.
"Abenomics is entering only the second stage, which is stronger corporate governance, and the beginning of a great rotation, where there's a shift of money into risky assets by individuals and institutions," Shiozumi said. The third stage, which will see those moves lift stocks, is likely to come in 2017 and 2018, said Shiozumi, whose Legg Mason IF Japan Equity Fund has surged 27 percent this year versus a 3.5 percent drop in Japan stocks.
Abe, who is nearing his four-year anniversary in office, pledged to implement three "arrows" to boost the economy. Along with monetary easing and government spending to end deflation, his goal was to give businesses greater incentives to invest and hire. After early optimism, though, the efforts faltered as spurring inflation has remained elusive.
Japan's Nikkei 225 Stock Average sank 18 percent in the first half of the year as investors lost patience with Abe's ability to revive economic growth and the Bank of Japan took interest rates into negative territory. The index rebounded more than 20 percent from this year's low to enter a bull market last month, buoyed by an 8 percent decline in the yen since Trump's win, which will help the nation's exporters.
"When the yen weakens, Japanese companies as a group become much more profitable," said Archibald Ciganer, whose T. Rowe Price Japan Fund rose 10 percent this year to rank ahead of 90 percent of peers, according to data compiled by Bloomberg. "If we stay where we are with the exchange rate, it is almost given that return on equity for Japan will improve next year."
Top Pick
While much of the stock rally in recent weeks has been fueled by external factors, the Abe reforms will help maintain momentum as companies adopt more shareholder-friendly practices. Corporate return on equity at Japanese companies will reach a 12-year high of 9.2 percent in 2018, said Morgan Stanley, which upgraded its rating on Japan in a report on Nov. 27 and made the nation its top pick among global markets. Total buybacks and dividends by Japanese companies this year will rise to 17 trillion yen ($151 billion), a record high, according to Morgan Stanley's estimate.
Japanese companies are also becoming more efficient in their use of capital, which should further boost shareholder returns, said Bhaskar Laxminarayan, chief investment officer in Asia at Julius Baer. Overseas mergers and acquisitions by Japanese companies rose to $87 billion so far in 2016, higher than last year's pace of $75 billion, according to data compiled by Bloomberg.
"For the first time, the Japanese corporate world is showing that they are willing to go out and diversify their asset base," Laxminarayan said.
The rebound could fizzle though as uncertainties around the globe, such as changes in political leadership in the U.S., the U.K. and Italy, may derail the rally. For now, that isn't a concern for the managers. Shiozumi said he is not bothered by short-term market fluctuations, while T. Rowe Price's Ciganer said he is more focused on stock performance over the next few years rather than single-year returns.
"Investors had unrealistic expectations," said Ciganer. "People think that things can be changed in one or two years. Structural reform, if successful, takes 10 to 20 years."
Before it's here, it's on the Bloomberg Terminal.
LEARN MORE