Senate Democrats Reject GOP Overtures on Replacing Obamacare
By
Republicans planning delayed repeal of health-care law

'They're like the dog that caught the bus,' Schumer says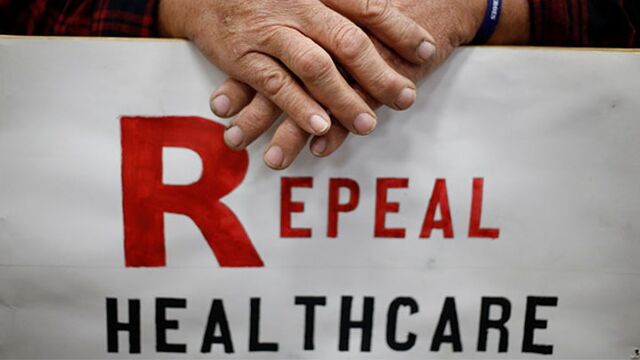 Incoming Senate Democratic leader Chuck Schumer taunted Republicans Tuesday over their plans to replace Obamacare, insisting they have no solution and vowing that his party won't go along with their attempts to unravel the law.
"Bring it on," the New York Democrat said. "They don't know what to do. They're like the dog that caught the bus."
Republicans say they intend to advance plans to undo President Barack Obama's signature legislative achievement early next year. But they lack consensus on what to replace it with and how to go about it, even as they're asking Democrats to work with them.
"One of the lessons we learned from Obamacare is that partisan legislation is not sustainable," Senate Majority Whip John Cornyn of Texas said Tuesday, telling reporters that Republicans want to get "bipartisan buy-in and build that consensus" for replacing the law.
Senator John Barrasso of Wyoming, the No. 4 Republican, said that on issues like health care, he hopes the "minority leader works closely with us, listens to the voices of the voters around the country and ends this really senseless obstruction."
Two hospital industry lobbying groups also said Tuesday that repealing Obamacare without a comprehensive replacement would be a disaster for U.S. hospitals that would cost jobs, limit health programs and reduce care for the uninsured. A repeal must ensure that hospitals don't see a surge in expenses for caring for those who will lose insurance, as well as people covered by federal health programs, leaders of the American Hospital Association and the Federation of American Hospitals said in a telephone call with reporters.
Within the GOP, there is division on how to move forward. Some party leaders, including Senate Finance Chairman Orrin Hatch and Cornyn said they prefer to allow for a three-year transition period. But House conservatives want a shorter fuse for repeal to take effect, perhaps two years.
"I think three years would be better, but the House says two," Hatch of Utah said.
'One at a Time'
Senator Roy Blunt of Missouri, who led the House Republican push for an Obamacare alternative in 2009, said Republicans would be more likely to get 60 votes to break a Democratic filibuster if they advance health-care measures on a piecemeal basis.
"I personally think that it's very much to the advantage of the replacement process if you do these things one at a time rather than try to put a package together that's not fully understood," said the Missouri senator.
Republicans face hurdles when it comes to repealing the law, which was one of President-elect Donald Trump's campaign promises. About 22 million people are insured because of it, according to the nonpartisan Congressional Budget Office, and one popular piece of the law prohibits insurers from turning away people with pre-existing conditions.
"We want to make sure we do no harm," said Senator Lamar Alexander, who chairs the health committee, adding that Republicans ought to move "carefully and prudently" so people are helped.
Before it's here, it's on the Bloomberg Terminal.
LEARN MORE