Samsung's Lee in Crosshairs as Tycoons Grilled Over Scandal
By , , , and
Hearing comes as Korea's biggest groups drawn into scandal

Tycoons testify in connection with influence-peddling case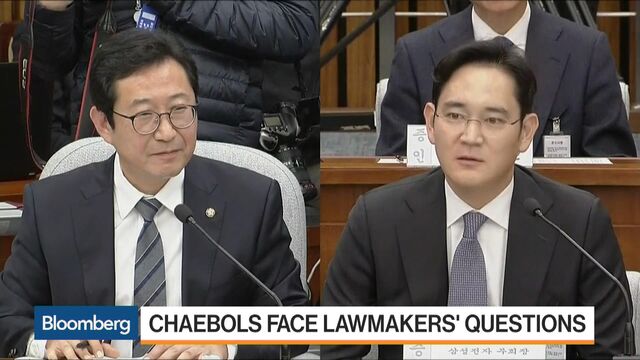 Jay Y. Lee, the de-facto head of Samsung Group, was the prime focus of a public parliamentary grilling of tycoons in connection with a widening influence-peddling scandal that may cost South Korean President Park Geun-hye her job.
In a hearing that lasted more than five hours on Tuesday, lawmakers directed the vast majority of queries toward Lee. The vice chairman of Samsung Electronics Co. said he never ordered donations to be made in return for political favors and rejected allegations he received wrongful government support to push through a key merger of two Samsung units last year. Other moguls such as Hyundai Motor Group Chairman Chung Mong-koo also denied assertions that their groups gave donations in exchange for preferential measures.
Billionaire Lee was among the nine tycoons summoned by the National Assembly, who were asked why the nation's biggest businesses gave tens of millions of dollars to foundations controlled by Choi Soon-sil, the president's confidante at the center of the scandal that's been roiling the country for weeks. It's the first time all the heads of the family-run chaebols, who usually shun publicity, have been called together to testify to parliament.
Park has said she's willing to step down after hundreds of thousands of Koreans took to the streets in recent weeks to call for her resignation and arrest. Prosecutors named her a suspect in an alleged scheme to extract money from companies and she faces an investigation by a special prosecutor in the coming weeks. Opposition lawmakers are pushing to impeach Park, whose five-year term is scheduled to end in early 2018. Park has denied she sought any personal gain and has apologized for the scandal three times.
QuickTake South Korea Scandal: Q&A
The hearing comes amid a tumultuous year for an economy that's struggling to maintain economic growth. Samsung's exploding phones, the collapse of Hanjin Shipping Co. and investigations into the conduct of the head of the Lotte retail group eroded confidence in the nation's industrial system. Its shipbuilding and steel industries are facing difficulties, and Bank of Korea Governor Lee Ju-yeol has cited record household debt as a risk to financial stability.
Lee confirmed that Korea's largest conglomerate provided a 1 billion won ($855,000) horse used for equestrian lessons by Choi's daughter. The tycoon also acknowledged meeting the president twice but said he never felt pressured by Park to fund Choi's foundations. He was asked multiple times when and how he learned of Choi's connections with Park but responded that he couldn't remember the details. Besides fielding questions all day, Lee was subject to criticism by various lawmakers, some of which questioned his ability to lead the company.
"If the ongoing probe ends, I will take appropriate measures on anybody including myself, who are found to be accountable for," Lee told lawmakers. "If a better person emerges, I will hand over management control."
Samsung has been accused of paying bribes to Choi, who allegedly pressed the nation's pension fund to back a merger of affiliates that was opposed by U.S. hedge fund Elliott Management Corp. In November, prosecutors raided the offices of Samsung Electronics and the National Pension Service, seeking evidence of links between the country's top business groups and the president.
Lee, who strengthened his grip over the family-run conglomerate as a result of the merger, acknowledged meeting officials at the pension fund ahead of the deal but denied the transaction was made for anything beyond commercial reasons. "The merger of the two companies has nothing to do with my succession," Lee said.
Park Ju Gun, president of corporate watchdog CEOSCORE in Seoul, said Tuesday's public testimony ran the risk of cementing public opinion about the tycoon, even before he begins to exercise real control over the Samsung empire.
"His answers such as 'I don't know' and 'I don't remember' are all legal phrases and the result of legal training," Park said. "Not only shareholders but also customers will doubt him and think how could somebody like him be able to run a global company?"
Lawmakers also scolded Lee for keeping a corporate strategy office, which coordinates the group businesses and is typical of family-run conglomerates. The practice has long been the subject of criticism by civic activists saying such organizations serve the interests of founding families at the expense of minority investors. Lee said he would be willing to dismantle Samsung's office, although he said he would exercise caution because it was created by the group's founder and later maintained by his father. "If the public and lawmakers have negative perceptions toward it, I will eliminate it," Lee said.
Lee, who has taken on a bigger role since his father's heart attack in May 2014, rarely makes public appearances. His public statements were his first on a major stage since last year, when he apologized after one of the Samsung hospitals was identified as a source of the Middle East Respiratory Syndrome outbreak that has killed tens of people in the country.
Last week, Samsung Electronics said it's looking at a plan to turn itself into a holding company after agreeing to return more cash to investors and add an outside director to its board. Samsung will spend at least six months on the review. Billionaire Paul Elliott Singer, who leads Elliott, had also pushed for Samsung to list shares on a U.S. exchange, although the company said that it would consider a Nasdaq listing only after it makes decision on the holding company.
"We should have done better by creating more jobs and so on, but I regret and am embarrassed for disappointing the people by getting involved in this shameful incident," Lee said. "I will do my best to improve our system and myself so that we can become a better company."
Besides Lee and Hyundai's Chung, Lotte Group Chairman Shin Dong-bin and SK Group boss Chey Tae-won faced questioning over allegations that their businesses donated money to foundations controlled by Choi in return for duty-free business licenses. Chey denied any wrongdoing, while Shin explained the late Lee In-won, who was found dead hours before prosecutors' questioning in August over an investigation into Lotte, was in charge of giving funds to Choi's foundations.