May Says She'll Seek 'Red, White and Blue' Brexit as Talks Near
By
Liberal Democrat leader calls statement 'jingoistic claptrap'

Premier is in Bahrain seeking to boost ties with Gulf region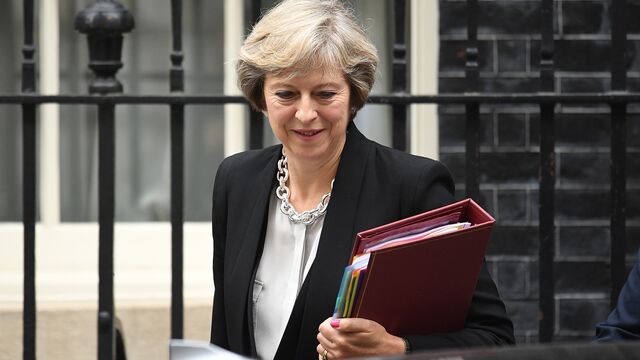 U.K. Prime Minister Theresa May said she'll push for a "red, white and blue" tailor-made Brexit agreement that's in Britain's best interests as she negotiates the country's departure from the European Union.
Follow @Brexit for the latest news, and sign up to our Brexit Bulletin for a daily roundup.
May, who is facing criticism from investors and some members of her Conservative Party for failing to provide details of her government's plan to take the country out of the European Union, said she doesn't recognize any of the labels that have so far been given to characterize the shape the negotiations may take.
"I'm interested in all these terms that have been identified -- hard Brexit, soft Brexit, black Brexit, white Brexit, gray Brexit," she told reporters on a visit to Bahrain. "Actually what I think we should be looking for is a red, white and blue Brexit," she said, listing the colors of the British flag. "That is the right deal for the United Kingdom," May said. "That is going to be the relationship with the U.K. once we've left the European Union."
While splits are appearing in her government about what compromises Britain may be willing to make to keep access to EU markets, May has been reluctant to give too many details about her negotiation plan for fear she will hand an advantage to her interlocutors. Michel Barnier, the EU's chief negotiator, told reporters in Brussels on Tuesday that there might be "some point" to granting British industries a period to adjust to the new arrangements after Brexit, but that would depend on a permanent trade plan being agreed.
Tim Farron, the leader of the pro-EU opposition Liberal Democrat party, denounced May's comments in a statement as "jingoistic claptrap."
The prime minister is in Bahrain attending the Gulf Cooperation Council as she seeks to strengthen security and trade ties between Britain and the Gulf region.