Hungary's Industrial Output Decline Fuels Worry About Expansion
By and
Cabinet counts on fourth quarter to meet economic growth goal

Lackluster October retail sales intensify economists' doubts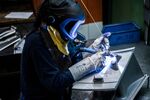 Hungary's industrial output dropped for a second month in October, reinforcing doubts about the government's growth target after retail sales also failed to meet expectations and underscoring the economic slowdown taking place in the European Union's eastern wing.
Industrial production fell 2.1 percent in October from a year ago, the statistics office reported on Tuesday. That compared with an estimate for zero growth by eight economists in a Bloomberg survey. Output rose 2 percent from the previous month. Gross domestic product expanded 2.2 percent in the third quarter from a year earlier, up from an initial reading of 2 percent.
As Hungary's industry faltered, October retail sales grew at their slowest pace since January, resembling results across the rest of the eastern EU. The trend has deepened amid plunging inflows of EU development funds that have undercut investment in Poland, Slovakia and the Czech Republic. Hungarian GDP is on track to expand at its slowest pace in three years in 2016, according to a Bloomberg survey, while Economy Minister Mihaly Varga said last week that a strong fourth quarter could keep the 2.5 percent annual growth goal alive.
"Industrial output fell almost across the board, including in car manufacturing," statistician Miklos Schindele told reporters.
Factory Shifts
Bulgaria's economy grew 3.4 percent from a year earlier in the third quarter, less than the 3.6 percent from April to June. Romanian GDP slowed its advance to 4.4 percent, from 6 percent in the second quarter and Slovakia's expansion slowed a full percentage point to 2.4 percent, the lowest since the beginning of last year.
The forint was little changed at 313.86 per euro by 9:17 a.m. in Budapest. It has strengthened 0.5 percent this year, making it the best-performing central European emerging-market currency on the back of sovereign credit upgrades to investment category at all three major rating companies in 2016.
With Volkswagen AG planning to temporarily reduce shifts to two from three at its Audi factory in the western city of Gyor, "it may even be difficult to reach an average industrial production expansion of 1.5 percent this year," Peter Virovacz, an economist at ING Groep NV's Hungarian unit, said in an e-mail. Industrial output grew 1.1 percent through October.
Like in Slovakia and the Czech Republic, car production accounts for the biggest share of Hungary's industrial output at almost 30 percent. Other automakers in Hungary include Daimler AG's Mercedes and Suzuki Motor Corp.
Economic growth expanded 2.2 percent in the third quarter as agricultural production, which rose 21.4 percent, combined with consumer spending of 4.5 percent to compensate for an 11.9 percent drop in construction.
"As of 2017, the economic expansion is seen accelerating," the government said in a statement. "Growth is expected to be underpinned by the government's housing incentives, wage hikes and payroll tax cuts in the next six years and a pick-up in the absorption of EU funds."
Before it's here, it's on the Bloomberg Terminal.
LEARN MORE