Dollar Gains as 10-Year Yield Reverses Drop; Pound Leads the Way
by
Greenback up vs all G-10 while mixed against emerging markets

Italy is so yesterday, now waiting on the ECB and Mr. Draghi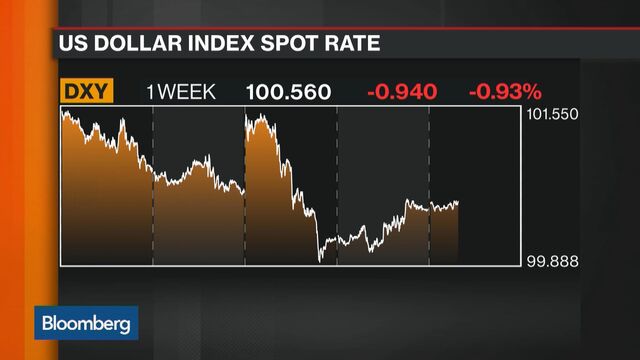 Traders latched on to an afternoon uptick in the U.S. 10Y yield as reason to resume buying the U.S. dollar, sending the euro and pound to fresh lows for the session amid muted flows, while adding lift to the Bloomberg dollar index.
The greenback's rise was paced by a drop in the pound, which wasted little time in sliding under 1.2700 shortly after the London close. Dollar buying then spilled over into the euro as the pound fell to its low of the day while dollar-yen remained stubbornly near 114.00, refusing to be drawn into the fray.
Flows were below the pace of Monday as traders adjusted to, and quickly looked beyond, the new reality of political limbo in Italy, which may now face elections early next year, joining France, the Netherlands and Germany in facing populist pressure.

Traders expect Thursday's ECB meeting to be the next key trading focus; while rates and policies are expected to remain on hold, traders are watching to see if Draghi will extend the bank's asset purchase program beyond its current March end date.
At the same time, traders want to see what steps the ECB will take to alleviate a collateral shortage that has forced German repo rates well below interbank rates.
USD higher vs all G-10 peers, though more mixed vs EMFX
EUR touched a fresh low below 1.0700 in afternoon trading, pressing for stop-loss sell orders that are positioned underneath that level, according to a trader in London
EUR earlier rose on buying by macro accounts before stalling short of yesterday's high at 1.0796, likely leaving stale longs stranded
GBP also saw buying early in the day before stalling near its 100-day moving average that offered technical resistance; price action on the drop below 1.2700 was choppy and suggested some stop-loss sell orders may have been tripped
USD/JPY, typically sensitive to UST yield swings, held steadfast around 114.00 amid sparse liquidity and occasionally choppy price swings such as those seen yesterday when the USD fell more than one yen in afternoon trading
While long USD is the preferred trade, the failure to breach 115.00 on two recent attempts has thrown some caution into bulls, a trader in New York said
Before it's here, it's on the Bloomberg Terminal.
LEARN MORE