Beaten Renzi Still Key to Italy Stability as Five Star Lurks
By
President asks Renzi to stay on long enough to pass budget

Renzi's party crucial to president's hope of smooth transition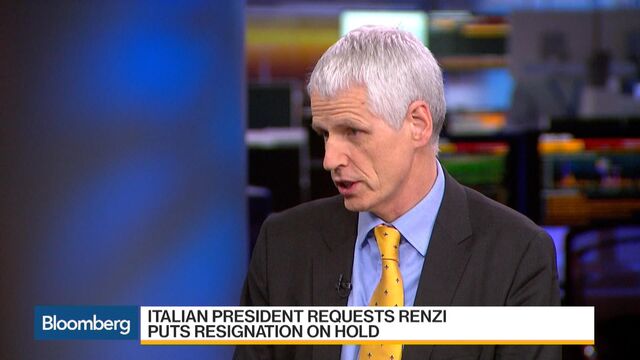 For another few days at least, Matteo Renzi remains the key figure in Italian politics.
Renzi may have tendered his resignation as prime minister after his defeat in Sunday's referendum, but as leader of the biggest party in parliament he's the only person who can ensure a smooth transition to a new administration.
President Sergio Mattarella on Monday evening asked Renzi to stay in his job long enough to push through a budget for 2017, potentially until Friday. When the head of state begins the search for someone else to lead Italy's 64th government since World War II, perhaps as soon as next week, the backing of Renzi's Democratic Party will be essential.
The question is whether 41-year-old Renzi will be able to deliver those votes.
The scale of his defeat on Sunday has fueled speculation that Renzi could quit as party leader as well as prime minister, or that he could even be ousted. Without Renzi there to corral his lawmakers, chances of an early election begin to mount, opening the door to the anti-euro Five Star Movement and roiling markets as troubled lender Banca Monte dei Paschi di Siena struggles to complete a vital recapitalization plan.
Read more: Could Five Star Really Take Italy Out of the Euro?
"If Mattarella is planning to nominate someone within the Democratic Party or close to it as a caretaker premier, he certainly needs a strong party leader to talk to," Franco Pavoncello, president of John Cabot University in Rome, said in a phone interview. "If Renzi wants to quit as Democratic Party leader the situation becomes very complicated."
Populists' Support
A survey by EMG released Sunday showed Five Star running neck-and-neck with Renzi's party for first round votes in a general election and winning by 53 percent to 47 percent the runoff which guarantees a majority. While Five Star is demanding an immediate election, most other parties agree that it needs to be put off at least until the voting rules can been changed to reduce the populists' chances.
Renzi may seek to push for early elections in January or February, staying in power until then, newspaper La Repubblica reported on Tuesday without citing anyone. But Mattarella doesn't see elections that soon as technically feasible because of changes needed to the electoral law, the newspaper added.
Euro Rebounds
Market reaction to Renzi's defeat has been muted, with the euro rebounding after an initial sell off and 10-year yields holding below 2 percent. Investors' main focus may be on whether the politicians' negotiations will hurt a banking sector weighed down by bad loans estimated at 360 billion euros ($387 billion). Unlike Donald Trump's victory and the U.K. vote to leave the European Union, opinion polls had consistently projected a defeat for Renzi, even if they did underestimate the scale of his loss.
"This was the first time polls got it right this year," said Ken Peng, an Asian investment strategist at Citi Private Bank in Hong Kong. "Markets -- especially institutions like banks -- they were all ready, they were prepared for this. This is not going to be a major disruption in financial markets."
Mattarella expects Renzi to help preserve that calm by suggesting a new premier whom his party would support. The head of state also has to consult other party leaders and the nominee has to win a vote of confidence in both houses of parliament before he is sworn in. Potential candidates include Finance Minister Pier Carlo Padoan, Transport Minister Graziano Delrio, Culture Minister Dario Franceschini and Senate Speaker Pietro Grasso.
Familiar Faces
Padoan could be the most obvious choice as he is close to Renzi and a familiar figure for both European leaders and financial markets, though he might have to serve as both premier and finance minister at first -- as Mario Monti did in the first months of his premiership in 2011.
As the political maneuvering begins in Italy, former premier Silvio Berlusconi was due to hold a meeting of his Forza Italia party leadership in Milan on Tuesday. Berlusconi said during the campaign he would be willing to work with Renzi on a new electoral law.
If Renzi can keep his lawmakers in line over the next few days and remain as party leader, that would give him an ongoing influence over the next government and could provide the platform for a political comeback.
"The Democratic Party wants him to continue with his task," Ettore Rosato, head of its lawmakers in the lower house, a Renzi loyalist, insisted on Monday evening.
Before it's here, it's on the Bloomberg Terminal.
LEARN MORE