Czech Leader Sets Up Election Showdown With Tax Revamp Plan
By and
Social Democrats seek to regain popularity before 2017 ballot

Tax plan sets stage for clash with tycoon finance minister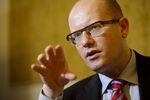 Czech Prime Minister Bohuslav Sobotka pledged a tax overhaul that may include special industry levies following next year's general election in a move echoing policies introduced in other post-communist European Union nations. Shares in the country's banks fell.
The Social Democrats, whose support has plunged since becoming the dominant government party about three years ago, will "definitely" propose changes to the tax system during the campaign, the party leader said in an interview in Prague on Tuesday. The pledge sets the stage for a clash with billionaire Finance Minister Andrej Babis, the most popular politician and the leader of the junior ruling ANO party that opposes higher corporate taxation.
The tax overhaul "will be part of our election program, including changes in income and corporate taxes," Sobotka said. "At the moment, we're analyzing options for industry taxes."
Sobotka is pinning his economic program on securing what he calls a fairer tax system as he seeks to regain ground after losing regional elections to ANO two months ago. Disagreements over the state's role in the economy are just one example of tensions between the two leaders, who polls show are poised to be the main contenders to lead the next administration.
Economic Revival
Despite the bickering, the Social Democrats and ANO have joined forces to reverse an austerity drive imposed by the previous government. While more state spending has helped to fuel recovery from a record-long recession, better tax collection and an economic revival have created a record budget surplus this year. Lawmakers in Prague debated the budget draft on Wednesday, preparing to endorse a cabinet plan to run a 60 billion-koruna ($2.4 billion) deficit in the election year after the first surplus in over two decades expected in 2016.
Improving state finances and prospects of currency appreciation have drawn investors into state bonds, pushing yields on maturities of up to six years below zero. The yield on the five-year note stood at minus 0.16 percent as of 2:43 p.m. in Prague, 20 basis points above German bunds.
The pledge to change taxes complements Sobotka's push to boost living standards by raising salaries of state workers and pressing private companies to follow suit, with Czech wages lagging productivity levels when compared with western economies.
The prime minister has criticized foreign businesses for channeling too much profit out of the Czech Republic via dividends, and said higher taxation of some industries, including banks and utilities, could help strengthen the domestic economy.
State Influence
Efforts to raise more state income from companies resemble measures introduced over the past decade in Hungary, Slovakia and Poland, where governments needed to finance more welfare spending and sought to boost state influence over businesses. Such policies are upending the growth model of post-communist economies from the past quarter-century based on attracting foreign investment with state incentives and cheap labor.
Komercni Banka AS, the local unit of Societe Generale SA, fell 2.7 percent in Prague on Wednesday, the biggest drop in Europe's Stoxx 600 Banks Index, which rose 1.7 percent. Moneta Money Bank AS, the country's only other traded lender, slid 2.2 percent, the most in three weeks.
"We think the probability of higher taxes for banks and utilities is low, but some investors seem worried because of the precedent set by Hungary and Poland," said Monika Kiss, head of research at Equilor Investment Ltd. in Budapest. "Should the Social Democrats find political consensus for this, it would be negative for these industries by limiting the dividend potential."
— With assistance by Andrea Dudik
Before it's here, it's on the Bloomberg Terminal.
LEARN MORE