Brexit Bulletin: Theresa May Is Having a Difficult Week
And she hasn't even read our Pessimist's Guide to 2017 yet.
By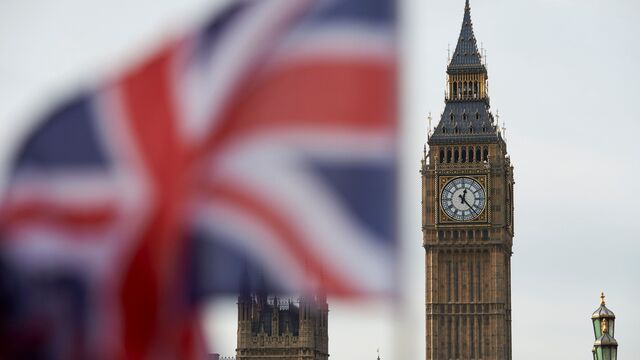 Sign up to receive the Brexit Bulletin in your inbox, and follow @Brexit on Twitter.
These are tough times for Theresa May on the road to Brexit.
European Commission negotiator Michel Barnier today said the prime minister must first strike a deal with the bloc for the U.K.'s post-Brexit trade ties before discussions on whether businsses can enjoy a period of transition to the new world. 
Barnier also gave a clear timetable, saying that if May triggers the talks by the end of March they need to be wrapped up by October 2018 to enable the European Parliament time to approve the plan.
"Keep calm and negotiate," Barnier said. "The work will be legally complex, politically sensitive and will have important consequences for our economies, and first for our people on both sides of the channel."
The Guardian reported Barnier estimated the U.K. may have to pay about €60 billion ($64 billion) to leave the bloc. 
Elsewhere in Brussels, Dutch Finance Minister Jeroen Dijsselbloem said that Brexit "can be smooth, it can be orderly, but it requires a different attitude I think on the part of the British government."
Meanwhile, May is facing a rebellion from lawmakers in her own Conservative Party over her secrecy.
A Labour Party motion set to be debated in Parliament on Wednesday demands that May promise to publish a plan for Brexit before triggering the Article 50 procedure that sets the two-year countdown clock ticking.
Tory lawmaker Anna Soubry said on Monday the motion is "eminently supportable" and that up to 40 of her colleagues could support it.
Over at the Supreme Court, the 11 justices repeatedly challenged some of government lawyer James Eadie's arguments. The judges focused on the fact that lawmakers had approved the 1972 treaty that paved the way for Britain to join the EU, with one judge calling it a "joint effort."
A loss for the prime minister would put her under even more pressure to disclose further information about her Brexit plans.
On Tuesday, Supreme Court President David Neugberger said judges were proceeding on the basis that Britain couldn't reverse a formal notice to leave the EU. 

Bank Taxes
Financial companies paid £71.4 billion ($91 billion) in tax in the latest fiscal year, according to data released by the City of London Corporation on Tuesday, boosting the case for banks to be offered help throughout Brexit.
Finance accounted for 11.5 percent of government revenues in the year through March as the tax take from the sector gained 7.4 percent from the previous year.
Mark Boleat, the corporation's policy chairman, said the statistics underscored the importance of the City of London and how it "arguably stands the most to lose as negotiations loom."
U.K. Chancellor of the Exchequer Philip Hammond and Brexit Secretary David Davis on Monday told executives from banks including HSBC and Goldman Sachs that they would seek the "best deal" possible for finance in Brexit. Still, the Daily Telegraph reported they also said the industry would not get special treatment over other sectors.
Bank of England Governor Mark Carney did his bit for banks by telling Channel 4 News it was "absolutely desirable" to have a transition between leaving the EU and whatever new trade deal was established with the bloc afterwards.
Brexit Bullets
Brexit could be a chance to boost Britain's dire productivity, says McKinsey
How to be optimistic about a post-Brexit Britain 
Norway seeks clarity on Brexit before making deal on U.K. trade
U.K. prepares WTO schedules to lower Brexit disruption to trade
Swedish nationalists eye power with EU's dominoes poised to fall
Government says millions of EU citizens living in U.K. will need ID after Brexit
Paris mega-campus starts to seduce London tech startups
On the Markets
The pound reached a two-month high as traders hoped the Supreme Court may complicate the path to Brexit by deciding May lacks the power to trigger the withdrawal. 

And Finally…
So you think 2016 was challenging? What if 2017 saw the rise of populist leaders across Europe, electoral defeat for German Chancellor Angela Merkel, a meltdown in Brexit negotiations and the euro entering a tailspin?
For more ways to be worried, check out Bloomberg's annual pessimist's guide to the year ahead. Worryingly, we had a pretty good record in 2016...

For more on Brexit follow Bloomberg on Twitter, Facebook and Instagram, and see our full coverage at Bloomberg.com
Before it's here, it's on the Bloomberg Terminal.
LEARN MORE