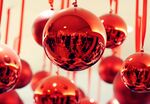 It's the most wonderful time of the year, and if you're a typical American, it'll cost you about $728. 

That's how much the average U.S. adult who planned to buy holiday presents expected to spend in 2015. How they planned to fund it differed significantly based on where they fell on the income distribution.
That's the first item in our economic research wrap this week, followed by analyses that look at how urban concentration is impacting New Jersey, subprime auto loans, and inequality mis-measurement. Check this roundup every week for the latest on interesting and influential economic research from around the world.  
Mistletoe, holly and loans
A total of 77 percent of American adults planned to buy holiday gifts last year, according to the October-November 2015 survey, and on average expected to spend $728. Of those purchasing presents, 78 percent didn't expect to borrow to fund the purchases. Half of those who were taking on debt expected to pay it back within three months.
Interestingly, low-income people were the least likely to borrow to buy gifts – they were more likely to forgo purchases they couldn't afford. Families with children were more likely to take on debt and less likely to forgo gift-spending across the board.



Holiday Spending and Financing Decisions in the 2015 Survey of Household Economics and Decisionmaking
Published Dec. 1, 2016
Available on the Federal Reserve Board website
How New Jersey lost its cool
The Garden State has had a pretty dismal bounceback from the Great Recession, with job gains that lagged the nation's. Researchers Adam Scavette and Ethan Haswell say in a new Philadelphia Fed analysis that "one of the main challenges for New Jersey may be that its economy is very much services-based, but many services jobs are now clustering in cities.'' That's especially true for higher-paying, knowledge-intensive services jobs that require lots of human capital. Aka: the really good jobs made like a hipster and moved to Brooklyn (or Manhattan, or Philadelphia).

New Jersey can try to counter the effects by nurturing white-collar work in places like Princeton and Jersey City, but "if larger forces of desuburbanization continue, they may overwhelm any such efforts." How's that for a pep talk?
Is Urban Cool Cooling New Jersey's Job Market?
Published Dec. 1, 2016
Available on the Philadelphia Fed Website

Subprime auto: if not systemic, still scary
America is having a record year when it comes to auto loans, with 2016 on track for the most originations in New York Fed data going back to 1999. Strength in borrowing has persisted even as auto loan delinquencies increase – especially among loans made by auto finance companies, which are more likely to lend to borrowers with poor credit scores.
"The increased level of distress associated with subprime loan delinquencies is of significant concern, and likely to have ongoing consequences for affected households,'' researchers at the New York Fed write in a blog post.
Subprime Auto Debt Grows Despite Rising Delinquencies
Published Nov. 30, 2016
Available at the New York Fed's Liberty Street Economics blog
What we miss when we talk about the super-rich
Business income is an important source of earnings for the world's most affluent, yet it's often at least partly overlooked in personal income measures. Using data from Norway, researchers looked into how this dynamic can affect how we see the super-rich. They attributed business income to personal owners as it accrued, and saw top income shares increase significantly as a result, in some cases.
After a 2005 tax reform made it more attractive to retain earnings in businesses in Norway, for example, accounting for earnings retained in the corporate sector more than doubled the top 0.1 percent's income share in some years.
This finding has implications outside of Norway. For one thing, the importance of business income for inequality differs across countries, and that fact "substantially reduces comparability of inequality statistics" between nations.  The study also adds to a long list of research finding that it's tough to tell just how flush the super-wealthy are. More on that here. 
Accounting for Business Income in Measuring Top Income Shares
Published December 2016
Available at the NBER website



Before it's here, it's on the Bloomberg Terminal.
LEARN MORE