Taiwan Risks China's Wrath for Unprecedented Call to Trump
By , , and
Unusual chat highlights island's diplomatic isolation

Beijing expected to ratchet up pressure after 'little trick'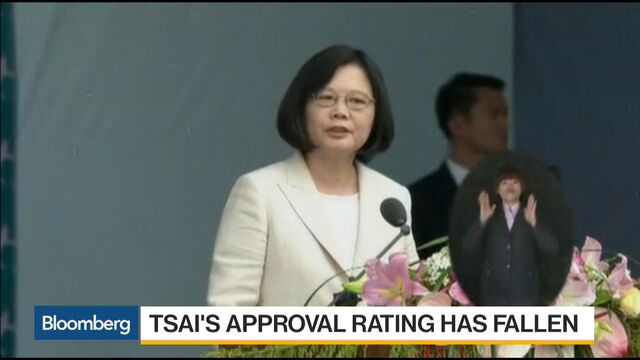 With her precedent-breaking conversation with Donald Trump, Taiwanese President Tsai Ing-wen is betting that a little recognition from the incoming U.S. leader was worth the risk of backlash from China.
The telephone call Friday, which lasted for a little more than 10 minutes, was the closest a Taiwanese president has come to getting formal U.S. recognition since it established relations with the Communist government in Beijing almost four decades ago. With it, Tsai drew global attention to the democratically run island's increasing isolation in the shadow of a rising China, which considers Taiwan part of its territory that can be retaken by force.
Still, the move raises the threat of retribution from China, which has been ratcheting up pressure on Tsai since her pro-independence Democratic Progressive Party's landslide election win in January. Beijing focused its anger over the call on Tsai rather than Trump, with Chinese Foreign Minister Wang Yi dismissing the call as a "little trick pulled off by Taiwan."
"It might earn Tsai Ing-wen a round of applause now, but it'll be detrimental to Taiwan's development in the long run," said Jin Canrong, an associate dean of the Renmin University's School of International Studies in Beijing and an adviser to China's national legislature. "Taiwan's destiny is much more intertwined with the mainland than the U.S., especially economically."

Trump hit back at criticism over the call Sunday, asking on Twitter whether China would ask permission before moving to "devalue" the yuan or "build a massive military complex in the middle of the South China Sea." "I don't think so!" he wrote, in a tweet that suggested the incoming administration viewed the various tension points as interlinked.
Earlier, Vice President-elect Mike Pence told NBC's "Meet the Press" that the conversation was just a "moment of courtesy," and that Trump would roll out his foreign policy agenda after Jan. 20. Even so, Taiwanese local media including the Taipei-based Liberty Times reported Monday that Tsai may meet Trump staffers face to face during a stopover in New York in January.
Chinese Foreign Ministry spokesman Lu Kang declined to comment on Trump's comments at a regular briefing on Monday, saying recognition of "one-China" was the basis for any diplomatic relations. "On the Taiwan-related issue, our position is known to all, and I think Trump's transition team is also very clear on that," Lu said.
For more about Trump's yuan comments click here
The call gives Tsai a foreign-policy win as she struggles with domestic setbacks. Her approval rating sank to 26 percent last month, down from 47 percent in June shortly after she took office.
"It's a positive thing," Lin Mao-sen, a 59-year-old taxi driver in Taiwan. "This lets people know Taiwan exists, that we are a free and self-ruling country. Most people in the world only know of the People's Republic of China, they don't know there's a Republic of China."
A sputtering economy is among Tsai's most-pressing concerns. The government said last month that the Taiwanese economy was expected to grow 1.87 percent next year, lagging the 2.6 percent growth that economists projected for South Korea, another export-dependent economy.
For an explainer on Taiwan's diplomatic tightrope, click here
Although China and Taiwan have never ended the civil war that led to their 1949 split, they've forged deep economic bonds and the island sends roughly 40 percent of its exports across the Taiwan Strait. Tsai's predecessor, Ma Ying-jeou, signed 23 agreements on everything from direct flights to allowing investment in each other's financial sectors. 
Those deals were based on Ma's acceptance that both sides belong to "one-China," which has also been the long-standing policy of the U.S. Tsai, however, refused to accept that pre-condition. Beijing has responded by using its economic and diplomatic clout to punish her.
Since Tsai's election, China has cut off a formal line of communication with the island. Tourist arrivals from the mainland have plummeted. Beijing got Kenya, Malaysia and other governments to send Taiwanese fraud suspects to the mainland for prosecution, despite a mutual legal assistance agreement signed by Ma.
'More Pressure'
Alexander Huang, an assistant professor at Tamkang University in New Taipei City, said Tsai's call with Trump brought global attention to Taiwan's isolation.
"The world was talking about Taiwan the whole weekend," Huang said. "Of course, China may put more pressure on Taiwan. Taiwan should keep building a good relationship with U.S. while continuing express goodwill to China."
Beijing looked to keep the call from escalating into a crisis before Trump takes office in January. Chinese state media took aim at Tsai instead.
"For any out-of-line move made by Tsai Ing-wen, the mainland has ability to punish every of them, and should exercise these capabilities without any hesitation," the Global Times, a state-run tabloid known for its nationalist views, said in an editorial Saturday. "Taiwan authorities will pay for whatever effort they make to alter the status quo."

The Communist Party passed in 2005 a law authorizing attack to prevent secession, a threat that still hangs over the island. But China benefits from closer ties, which advance its ultimate goal of reunification. It must be careful not to appear too aggressive and alienate more Taiwanese, who public opinion polls show overwhelmingly favor the status quo.
China has many tools to pressure Taiwan that stop short of direct military action. Tourism numbers could be reduced further. The People's Liberation Army Air Force could make more incursions across the Taiwan Strait.
Beijing could lure away the last 22 countries that still have diplomatic relations with Taiwan. In March, China officially established ties with the West African nation of Gambia, which once recognized Taiwan. Chinese delegations have recently made contact with officials from the Taiwanese allies of Panama and the Vatican.
"Beijing loves 'provocations' to rationalize moves it wanted to take anyway -- I can imagine lots of them," said June Teufel Dreyer, a University of Miami political science professor and former commissioner on the United States-China Economic and Security Review Commission. "I hope that the Trump transition team has foreseen this and given Taiwan its assurances that President Trump will stand behind the country."
— With assistance by Ben Brody, Ros Krasny, Debra Mao, Alexis Leondis, and Kevin Hamlin
Before it's here, it's on the Bloomberg Terminal.
LEARN MORE