business
Europe's Populists Target Landmark Victories in Italy, Austria
By , , and
Italy's Renzi has staked his job on constitutional referendum

Austria's presidential runoff pits nationalist against Green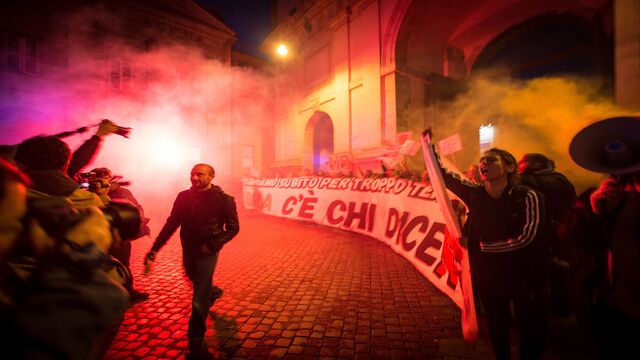 Voters in Italy and Austria on Sunday will decide whether to join the populist backlash propelling Donald Trump into the White House and Britain out of the European Union.
Italy's referendum is supposed to be about curbing the power of the Senate. But after Prime Minister Matteo Renzi's promise to quit if he loses, the overarching issue has become his efforts to fend off the challenge of the anti-euro Five Star Movement after almost three years in power. Across the Alps, Norbert Hofer is aiming to become Western Europe's first right-wing nationalist head of state since World War II, by appealing to Austrians' distrust of immigrants, global trade and the EU.

For more on European political risk, click here
Sunday's ballots kick off a year of voting with establishment parties across the continent threatened by upstarts challenging the foundations of the European project. Countries accounting for three quarters of euro-area economy will go to the polls with the future of the EU at stake.
"We're seeing populist parties challenge the establishment in one country after another," Simon Tilford, deputy director of the Centre for European Reform in London, said in an interview. "Anything that causes doubt about political stability in Italy will unsettle investors."

For U.K. Independence Party leader Nigel Farage, architect of Brexit and ally of Trump, Sunday will be a "very big day" in Europe. He says that Italians will rebel against "a power grab by Renzi" and cites Hofer's talk of a referendum on taking Austria out of the EU as more evidence of the pressures threatening the bloc.
Italians vote until 11 p.m. local time and exit polls -- which have proved unreliable in the past -- will be released as soon the polling stations close. First projections of results are expected about an hour later, with final results due in the early hours of Monday. The Austrian election ends at 5 p.m. but it's unlikely that officials will declare a winner before postal votes are tallied on Monday.
Renzi Trailing
Opinion polls before a two-week blackout backed up Farage's prediction of a defeat for Renzi, which could trigger political instability in Italy and roil currency, bonds and equity markets. In that scenario, President Sergio Mattarella might ask Renzi himself or possibly Finance Minister Pier Carlo Padoan to lead a new government to stabilize the situation before early elections.
If Renzi, 41, does score a surprise victory, he will become one of Western Europe's strongest leaders -- and may reshuffle his government, or even force early elections to seek a stronger parliamentary majority. The premier has made the vote a personal crusade with a barrage of rallies across Italy, daily television and radio interviews and blitzes of Facebook Live events and tweets.
"The important thing is that you don't report me for stalking," Renzi joked at the end of an online monologue on Thursday. His reform would shrink the size, and curtail the powers of the Senate with the aim of giving Italy stable government.
Changing the Rules
The "No" camp has brought together a jumble of old and insurgent forces, including from Renzi's party and opposition parties like the anti-immigrant Northern League and ex-premier Silvio Berlusconi's center-right Forza Italia. Berlusconi said the reform would "lead to a dictatorship."
Spearheading the 'No' campaign -- and with potentially the most to gain from such a result -- is the anti-establishment Five Star Movement which wants its own referendum on Italy's membership of the euro. Five Star, neck-and-neck with Renzi's Democratic Party, in opinion polls wants immediate elections if he loses.
Five Star's co-founder Beppe Grillo, a comic-turned-politician, has virulently targeted Renzi, branding him "a wounded sow" and labeling "Yes" campaigners "serial killers of our children."
Mainstream parties want to change the law before another election is held. Under the current system, Grillo's group would be handed an automatic majority if it was the biggest party in the lower house.
Austrian Re-Run
Whether or not Hofer manages to defeat Alexander Van der Bellen of the Green Party in Austria, the country is heading for its first president in seven decades who isn't from either the Social Democrats or the People's Party.
Van der Bellen edged out Hofer by just over 30,000 votes on May 22, a result that was later annulled by the constitutional court after lawyers from Hofer's Freedom Party showed irregularities in the way some of the roughly 4.5 million ballots were counted. Opinion polls earlier this month showed Sunday's race was statistically tied.
Both candidates have promised to wield the power of the presidency more aggressively. Hofer, 45, has promised to dismiss governments he deems incapable of passing legislation. Van der Bellen, 72, has pledged to block anti-EU forces from governing. Hofer also wants to trigger new national elections.
"The incentive for Hofer to dissolve the National Council if he wins the Presidential election is clear," JP Morgan economist David Mackie said in a note. "The Freedom Party looks likely to do much better if an election were to be held now, as it is currently polling well ahead of the other two parties."
Before it's here, it's on the Bloomberg Terminal.
LEARN MORE