Euro Climbs From 20-Month Low as Italy 'No' Vote Reaction Fades
by and
Currency erases losses, strengthens versus most major peers

Italian premier says he will offer resignation on Monday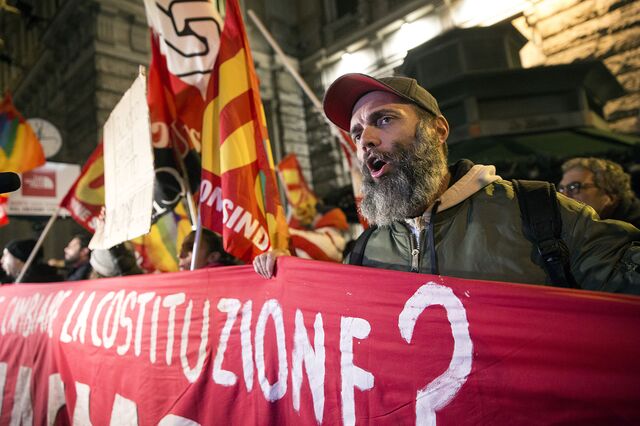 The euro rebounded from its lowest level since March 2015 and a decline in Italy's bonds was limited as the reaction to Prime Minister Matteo Renzi's loss in the nation's constitutional referendum proved relatively short-lived.
While the single currency initially dropped on news that Renzi would resign after conceding defeat, it recovered to strengthen against all except two of its 16 major counterparts, reaching a two-week high versus the dollar. Renzi's plans to rein in the power of the Senate was defeated by 59.1 percent to 40.9 percent, according to the final tally. Although Italy's 10-year bond yield climbed the most in three weeks, the move was not enough to erase Friday's declines.

With a "no" vote largely expected, the market reaction was relatively muted compared with gyrations after Britain's decision in June to leave the European Union and Donald Trump's victory in last month's U.S. presidential election. The pound fell by more than 10 percent as it became clear the U.K. had voted for Brexit, while the dollar swung wildly in the hours following Trump's win.
"The moves were contained because everybody expected a 'no' today," said Jens Peter Sorensen, chief analyst at Danske Bank A/S in Copenhagen. "I am not optimistic on this one. There is no need to be brave here and start buying BTPs. I don't see this as a very positive sign for the euro, because now one of the biggest countries in the euro zone is in a political mess."
The euro rose 0.6 percent to $1.0730 as of 3:27 p.m. in London, after falling earlier 1.5 percent to $1.0506, the lowest since March 16, 2015.
Italy's 10-year yield climbed 13 basis points to 2.04 percent, having dropped 15 basis points on Dec. 2.
While the referendum has raised concerns over Italy's future in the euro region, the nation's political and legal system mean a "no" vote is unlikely to trigger a quick exit.
Why Italian Vote Unlikely to Mean Swift Euro Exit: QuickTake Q&A
The extra yield demanded by investors for owning the nation's 10-year bonds instead of German bunds surged on Nov. 28 to 192 basis points, the most since June 2015. The spread was 167 basis points Monday.
Before the vote, some investors saw the currency as the best way to play the referendum since the European Central Bank's asset-purchase program provides a source of support for fixed-income securities.
The nation's benchmark FTSE MIB Index of shares fluctuated on Monday after gaining 3.5 percent last week.
While Renzi's concession initially roiled other currencies, the fallout was limited. The yen erased a gained of as much as 0.6 percent against the dollar.

Before it's here, it's on the Bloomberg Terminal.
LEARN MORE