Your Evening Briefing
Here are today's top stories
Bloomberg News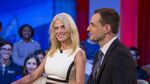 Want to receive this post in your inbox every afternoon? Sign up here.
Who's who in the battle for Trump's team. As Donald Trump taps billionaires and GOP insiders for his Cabinet, with his latest pick being retired General James Mattis for defense secretary, here are the Bloomberg stories that tell the tale of the most unlikely presidential election in U.S. history.
Things got heated between Trump aides and Clinton aides during a three-hour forum hosted at Harvard University on Thursday night. "I am more proud of Hillary Clinton's alt-right speech than any other moment on the campaign because she had the courage to stand up. I would rather lose than win the way you guys did," Clinton communications director Jennifer Palmieri said. Trump campaign manager Kellyanne Conway fired back: "Do you think I ran a campaign where white supremacists had a platform? Are you going to look me in the face and tell me that?"
The OPEC deal hinged on a 2 a.m. phone call that nearly failed. As the Nov. 30 deadline approached, differences among OPEC ministers seemed irreconcilable. But in the small hours of the morning of Nov. 29, Saudi Arabian Energy Minister Khalid Al-Falih and Russian counterpart Alexander Novak—two of the most powerful men in the global oil industry—had talked. The journey to their crucial conversation had been long and hard, according to the officials.
U.S. hiring picked up in November and the unemployment rate tumbled to a nine-year low while wages unexpectedly declined, providing a mixed picture of progress in the labor market. Friday's data showed that 4.52 million Americans who entered the labor force got jobs in November, up 575,000 from October—the biggest monthly increase in records going back to 1990.
Fewer women are managing funds in the U.S. Four out of five funds globally operate without any women managers, according to a report released this week by Morningstar. Gender parity has not improved much since 2008, and in some countries, including America, it has gotten worse, according to the study of 26,340 mutual fund and ETF managers in 56 countries.
Will Ivanka's China-made clothing line survive her dad's trade war? Ivanka Trump's $100 million apparel line is sewn in Asian countries under a licensing agreement with G-III Apparel. That means political embarrassment for her father, who has threatened a trade war against China, the world's second-largest economy. But she can make a profit in few other ways.
Pop the ($800) bubbly. When you buy expensive champagne, you're paying for the very best grapes from grands crus and premiers crus vineyards; years of extra aging in the region's cold, chalky cellars (which gives the wines more complex flavors and aromas); the rarity factor; and, of course, prestige. Here are 10 ultra-luxury champagnes that are worth the big bucks—for New Year's Eve and beyond.  

Before it's here, it's on the Bloomberg Terminal.
LEARN MORE