U.K.'s Johnson Sides With Trump on NATO Defense Spending
By and
Foreign Secretary says President-elect 'has a point' on NATO

U.K. must talk to Putin but not go back to 'business as usual'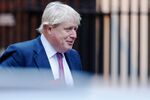 U.K. Foreign Secretary Boris Johnson agrees with U.S. President-elect Donald Trump that other NATO members need to pull their weight.
In his first major speech since being appointed Britain's top diplomat, Johnson said on Friday that Trump "has a point" when it comes to how the North Atlantic Treaty Organization nations meet their defense-spending commitments.
Trump raised fears about his commitment to the NATO principle of collective defense by suggesting during his election campaign that U.S. participation should hinge on all 28 countries in the military alliance meeting a pledge to spend 2 percent of their economic output on defense. In 2015, just the U.S., Greece, the U.K., Estonia and Poland met the target.
"It cannot be justified that one NATO ally, America, accounts for about 70 percent of the alliance's defense spending while the other 27 countries manage only 30 percent between them," Johnson said at the London office of Chatham House, a think tank.
At the same time, he emphasized NATO's abiding commitment that an attack on any one member "shall be considered an attack against them all." He also said that Britain would not "block or impede" further European integration -- including proposals for a closer common defense policy.
Prime Minister Theresa May has stepped up efforts to establish closer ties with Trump after she drew ridicule when Brexit mastermind Nigel Farage got to speak to the leader-in-waiting before her. Trump added salt to injury by tweeting that Farage should be made ambassador to Washington.
Drawbridge Down
Johnson's comments about collective defense are also designed to reassure European nations that Britain remains committed to the security of the region as it prepares to leave the European Union.
The U.K. is "not a nation hauling up the drawbridge or slamming the door," said Johnson, who backed Brexit. "Our role is to be a flying buttress: supportive of the EU project, but outside the main body of the church."
Violence in Syria, Iraq and Libya -- the arc of instability -- highlighted that "the world is not in good shape," he said. Despite the tide turning against the rebels in Aleppo, Britain remains committed to finding "another way forward" without Syrian President Bashar al-Assad, he added.
When it comes to dealing with Russia, which is backing Syrian government forces, he urged a twin approach.
Russia's intervention in eastern Ukraine and Syria means we cannot "go back to business-as-usual," Johnson said. "Britain is prepared to be tough with Russia, but that does not mean that it is not also sensible to talk." Russia could "win the acclaim of the world" by halting its bombing campaign in Syria and delivering Assad to peace talks, he said.
Before it's here, it's on the Bloomberg Terminal.
LEARN MORE