Summers Slams Trump's Carrier Move as Threat to Capitalism
By
Former Treasury secretary says deal shirks capitalist rules

'A principle is being established,' Summers warns in blog post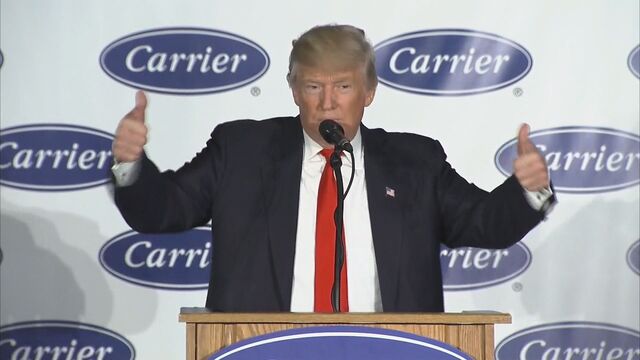 Former U.S. Treasury Secretary Lawrence Summers blasted Donald Trump's deal with United Technologies Corp. to keep factory jobs in Indianapolis, labeling the president-elect's intervention as a dangerous shift away from American capitalism.
Summers, a Democrat who was Treasury chief under then-President Bill Clinton, argued that rich and successful countries have a strong foundation of rules-based capitalism. He said Trump skirted that tradition when he used a "combination of carrots and sticks" to prevent United Technologies from sending jobs at its Carrier plant to Mexico. He called that "an act of ad hoc deal capitalism."
"A principle is being established: it is good for the President to try to figure out what people want and lean on companies to give it to them," Summers wrote in a blog post Friday. "Presidents have enormous latent power and it is the custom of restraint in its use that is one of the important differences between us and banana republics."
Summers warned that "the negotiation with Carrier is a small thing that is actually a very big thing -- a change very much for the worse with regards to the operating assumptions of American capitalism."
'Not Leaving'
Trump said he convinced United Technologies to keep about 1,100 jobs in Indiana by reaching out to its top executive and holding negotiations by phone. The president-elect signaled he will frequently deal with corporate leaders to protect American workers.
"We're going to have a lot of phone calls to companies that say they're thinking about leaving this country, because they're not leaving this country," Trump said Thursday at the Carrier plant in Indiana.
Trump tweeted on Friday night that Rexnord Corp., a maker of industrial machinery parts and drainage equipment, is moving jobs from Indiana to Mexico and "rather viciously firing all of its 300 workers. This is happening all over our country. No more!"
Voters in the so-called Rust Belt states of the Northeast and Midwest responded to the Republican's promises to restore domestic manufacturing, helping to propel the candidate to an unexpected win last month. Summers said Trump's intervention in corporate decisions to protect some of his supporters threatens to erode the country's wealth.
"Some of the worst abuses of power are not those that leaders inflict on their people," according to Summers. "They are the acts that the people demand from their leaders."
Before it's here, it's on the Bloomberg Terminal.
LEARN MORE