Haldane Says BOE Interest Rates Could Move in Either Direction
By
Central bank's chief economist says he's near MPC consensus

Risks to inflation outlook are evenly balanced: Haldane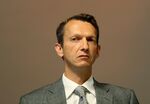 Andy Haldane said he agrees with the new consensus at the Bank of England that interest rates could move in either direction next after the economy proved more resilient than forecasts made ahead of the Brexit vote.
"Output has outperformed those expectations, while expectations of inflation have picked up, largely as a result of sterling's depreciation," the BOE chief economist said in a speech on Friday in Redcar, England. "That configuration now leaves me comfortable with the current stance of monetary policy, with no bias on the direction of the next move in interest rates."
While the BOE projects inflation to accelerate past its 2 percent goal next year, policy makers have said they will look through that to protect jobs and growth. However, they have said there are limits to their tolerance, and Haldane said on Friday that the risks to the inflation outlook were now evenly balanced between the upside and the downside.
"A further large upwards shift in expectations from current levels would, I think, be less benign and possibly unhelpful, especially if it were expected to persist," he said. "On the downside, I think there is still a material chance that growth could underperform relative to expectations during the course of next year."
The BOE cut interest rates for the first time in more than seven years in August and signaled at the time there may be more loosening to come. It shifted its stance last month, leaving the key rate at a record-low 0.25 percent.
Officials said in November they expect inflation to stay above target for the rest of the forecast period. Policy could respond "in either direction to changes in the economic outlook," they said.
If the economy weakens and more stimulus is required, there is a risk that the so-called zero lower bound on interest rates may constrain room for maneuver, Haldane said. BOE staff have conducted simulations to assess the probability of this in the future and put it in the range of 15-40 percent, he said.
"So this is a material risk, for monetary policy and for the economy, which needs to be weighed in the setting of policy," the chief economist said. "My personal view is that this provides grounds for not proceeding too hastily with any tightening of the monetary policy stance."
— With assistance by Lucy Meakin, and Jill Ward
Before it's here, it's on the Bloomberg Terminal.
LEARN MORE